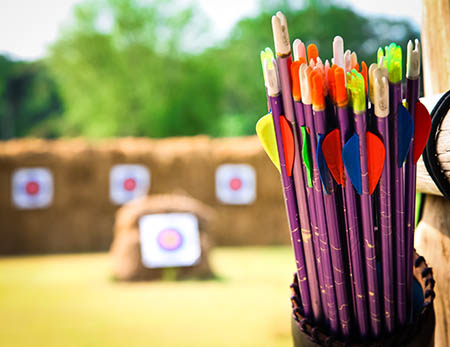 A Bull's-Eye Concept – A Creative Take on Archery in the Modern World
By: Kiernan Manion
How do businesses catering to the outdoors compete against the abundance of online gaming and technological amusements?  Many outdoor enthusiasts in today's market can easily gloss over the more primitive elements of roughing it, like building a fire from scratch, reading a compass and map, and shooting a bow and arrow. Companies like R&J Archery are working to change that by connecting with others and introducing (or re-introducing) potential archers to a fun new game that is highly competitive and requires a steady hand and true marksmanship.
 Creating a New Take on an Old Game
Every novice and professional archer has fired at a standard bull's-eye target, but the creative thinking of seasoned archer Joe Olson led to a new kind of bow shooting game. "The idea came to me a couple years ago while shooting with a friend, said Olson, "Every year, once spring arrives, I like to begin my archery practice in preparation for the upcoming archery deer season. One evening while shooting our bows I said, 'Don't you ever get tired of shooting at dots (as in bull's eye targets)?' "There should be a different game we can play!' My friend Roy responded, 'Like what?' That's when it hit me: cricket, which is a form of playing darts, but designed specifically with the archer in mind."
Olson immediately began to develop a target, a scorecard, and rules for the new game, which he dubbed "D-sending Order®," The Game of Archery Cricket. Just like in darts, the object is to close out all the numbers by hitting them a total of three times, each in descending order. Once you have closed out all the numbers, you must hit the bull's eye three (3) times to win the game. You score the game by counting the total quantity of arrows used to complete a round. The lowest quantity of arrows declares the winner.
The goal was to make a game that served as good practice, but was also fun to play. "The concept soon expanded into how to make this for not only back yard shooting or for hunting camp, but for leagues, team leagues, kids, and more. From that, the official game was born," said Olson, "It is truly the most fun you'll ever have shooting your bow. We have found that once we get people to try the game, they love it, and can't stop talking about it."
You can read more about D-sending Order® HERE and view a copy of the playing board HERE.
The Appeal of Archery
Practicing and developing your archery skills can not only prove to be useful, but is appealing and fun for families. As Olson puts it, "The main benefit of archery is many years of enjoyment to be shared with family and friends. You can shoot your bow just about anywhere, provided you have the room to shoot safely. There are archery clubs and leagues you can join. It's a sport you play just for fun or compete on any level up to the Olympic Games."
Adding archery skills to your repertoire can not only build your confidence as an outdoor enthusiast and help you bond with your friends and family, but it can add months to your hunting season as well. Archery also places a strong emphasis on accuracy and patience, two traits that define a truly skilled and experienced shooter.
That being said, it takes dedication and tons of practice and patience to be an effective archer. Olson states that proper breathing technique, proper form, and clearing your mind and focusing on your target are the most important elements of excelling in archery, it all hinges on hours and hours of practice and determination.
So what are the some of the basic products and recommended gear that you will want to look for before shooting? Olson put it this way: "For the beginner, I believe in sticking with the basics. There are several entry-level bows on the market. One should consider if they enjoy the sport they may want to upgrade components on their bow as time passes and their skills improve."
Olson continued with a few points on the more technical recommendations for those new to archery: "Using a mechanical release is a must with today's bows. Graphite arrows have pretty much taken over the market. Although a few more bucks up front, they are far more durable and last considerably longer. Look for a capture-style rest like a whisker biscuit or one of today's drop away rests, as well as a fiber optic fixed pin and string peep sight."
Integrating and marketing products geared towards archers can be a good move for outdoor supply stores. These can be integrated with any current firearm accessories or hunting equipment you already carry, which could include bows, arrows, maintenance equipment like tools and replacement parts, gear bags and used cases, tool boxes, hats, eyewear, outerwear, footwear, and much more.
A New Passion Emerges
In talking about the game and the interest that archery and D-Sending Order® has, Olson shared with me a compelling story about a kid that discovered archery with his uncle and found a new passion:
"Back in early December as we kicked off our winter leagues, a young man of sixteen named Jacob signed up along with his uncle. He had never really shot a bow before. As Jacob got through the first night, he struggled to hit anything he was aiming at. He returned the following week willing to try again. After a few weeks you could notice the improvements in his ability. He and his uncle began playing D-sending Order® two to three times a week. Each week telling me how many games they played, who beat who, with huge smiles on their faces. Jacob was developing into a shooter. I knew what he was just finding out: the games promote that competitive nature that drives you to succeed. To see this shy kid find a hidden passion for the sport and becoming a seasoned archer was truly a pleasure. On the night of our championships, Jacob approached me and said, "I brought my A-game," while grinning from ear to ear. That night he shot the best he had all season. In 16 short weeks, he went from a pure beginner to full-on competitor. Match after match he defeated top-ranked archers and shot for the league championship. Jacob may have finished second, but nothing short of a champion. A few days after we completed the league I received an email from Jacob's Uncle Brian, telling me how much they have enjoyed the game, and the bonding he and Jacob were able to do over the course of the season. Hearing how much enjoyment and quality time the game I created provided them makes all the hard work worth it!"
Jacob's story speaks to the point that something new and exciting can bring out passion and pleasure, especially with someone you care about.
Archery is an appealing way to enjoy the sport alone, or with friends and loved ones, without the complexities of modern firearms and technology. Why not give the game of D-Sending Order ® a try? Join a league or community, or start your own! The benefits of joining or trying the sport are many: a way to meet new people, share your interest and passion for bow shooting, practice and hone your skills in preparation for bow hunting, do it indoors or outdoors, get some exercise for your body and brain and best of all, have fun!
We would like to offer our gratitude to Joe Olson for taking the time to share his passion and knowledge with us at Surplus Today. For more information about D-sending Order®, the Game of Archery Cricket, visit the R&J Website at RJArchery.com or their Facebook page.