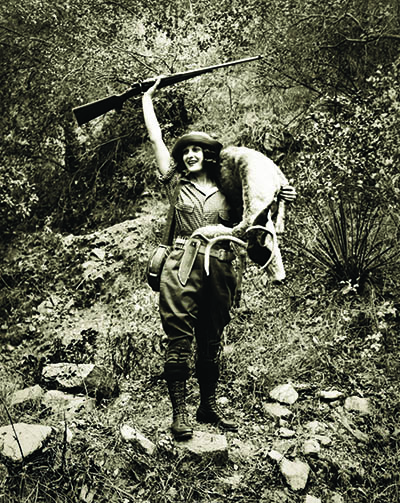 From the Huntress' Closet:
Creative thinking leads to unexplored product lines and sales.
In keeping with this issue's theme of renewal and growth, there are many new opportunities for businesses to increase sales. The focus of this interview is how two entrepreneurs are accomplishing this by introducing new product lines. Their ideas stem from the demand for quality, usable products that cater to women, especially for use in camping, hunting and other outdoor activities.
Kaylyn Fuller, Vice President of Wardens Supply Co., is collaborating with avid huntress Lisa Jane Barron, to create and implement marketing and merchandising strategies to appeal to women consumers, with the end goal of marketing to customers across the globe.
Surplus Today had the chance to speak with this dynamic duo about their "From the Huntress' Closet" new product line. Here are their responses:
ST: What are some of Wardens business goals for 2014?
KF: In a nutshell, the sky is the limit. Wardens Supply is looking to reach beyond the boundaries; to expand upon our existing product assortment and also incorporate new products and merchandise that this company has only dabbled in in the past, or has yet to market and promote. Our goal is to reach out to a market that is continuously changing and growing. Our plan encompasses several elements: add new merchandise lines to our well-established product base, redesign our website and expand new markets. These markets include the surplus industry as well as the vast world of outdoor sporting activities.
We believe our potential to reach new clients and simultaneously grow along with the modern market and technology is limitless. By pooling our creative knowledge, taking a few risks, and continuing to build and develop current and new relationships, we hope to see Wardens Supply Co. experience an exponential gain in momentum in 2014.
ST: What is your motivation for expanding the Wardens product line to accommodate women hunters? How does this benefit and expand your customer base?
KF: Our relationship with Lisa Jane Barron (LJB) has been a key factor in our decision to focus our energy in promoting and marketing hunting gear and apparel specifically to and for women. We had the idea to branch further into and expand upon our female targeted product base; our collaboration with LJB sealed the deal. LJB is active and avid in the hunting community, as many women are and have been for years.
When we first met LJB, she explained to us how she had experienced difficulty finding gear, equipment, and apparel equivalent to that of which men use, only specifically made to accommodate a female frame. Men and women are built differently, what works for and fits a man may not be suitable for a woman. For a long time, women simply had to compromise and make do with what they could find. While the products women like LJB are looking for are out there, they can be difficult to find, especially in one centralized location. Wardens Supply Co. aims to change all that.
Ideally, we would like to see Wardens Supply Co. become an everyday household name in the women's hunting community. We want to be the first name to come to mind when women think of shopping for the hunt, and we want them to trust in us with confidence. We believe that this is an excellent opportunity for our company to make a bigger name for itself, to strengthen and solidify our company name by broadening our exposure to the targeted customer base of the female huntress.
ST: What products are being discussed? Hunting equipment? Outerwear? Gloves? Boots?
KF: All of the above! The Wardens Supply Co. team is discussing and brainstorming ideas in all of the aforementioned areas of sales, as well as many others. Outerwear and apparel, including but not limited to cold weather and protective hats, gloves, and boots, as well as items in categories ranging from hydration gear and portable water purification systems, gourmet MRE's and freeze dried, ready-made meals, first aid and survival essentials, specifically pre-compiled survival kits and packs, are all in discussion and development stages. We are strongly leaning towards adding these and many other new products to the Wardens Supply Co. website in the near future. As the year continues, we hope to expand the availability of these types of products for purchase, and many more to come. Frequent visitors and returning customers will be continuously seeing new additions popping up on our site.
At the moment our focus is geared towards the promotion of "The Huntress" line. LJB and Wardens Supply Co. are dedicated to the development of this particular product line, which includes apparel and outerwear, but is not limited to such. We are looking at fur hats, mukluks, and gloves and boots that are tailored to fit the female huntress that also incorporates a Danielle Boone-esque style. You won't be seeing any pink camo in this line! The goal is first and foremost functionality for females afield. But we are also toying with our own custom designs for things like t-shirts, and general, every day athletic wear and apparel. In short, we're having fun with the concept, and approaching it from a variety of angles. We're keeping an open mind, as creativity thrives on the cultivation of new ideas and concepts. You never know what we may come up with next! And that's the excitement and fun of being involved in a project like this.
ST: Lisa, as a woman who hunts and camps, what products do you buy and use most often? What do you look for in military surplus and outdoor supply stores?
LJB: The products I use most often are the ones that work, plain and simple. Here in North Dakota, hunting is primarily based on concealment and warmth. Hence, I focus on the two when I shop. The best camo is that which has no extraneous colors or logos, warmest contains many layers. I generally buy a lot of fur. Girls with Guns has a fur-lined hoodie that I wear almost every hunt. My favorite hat is a rabbit fur bomber hat my mother-in-law got for me in Germany– I'd tell you the brand but I can't read German.
I invest in a lot of camo face paint—I always wear it while hunting. In fact people do not recognize me without it.  At the  SHOT Show in Vegas this past January, many individuals said they recognized me by my eyes, especially when I wore green– a small aside, but I digress) it's also what helps me stay extremely camouflaged in this flat, barren land.  I'm the biggest fan of Prios and Haley Vines in terms of camo hunting clothing.
ST: Which products do you want to see more of or changed?
LJB: Thankfully, women's participation is on the rise so stores and companies have followed suit, offering huntress gear that actually functions afield. When I first started hunting, I was relegated to purchasing children's clothing or badly fitted women's gear. Shopping back then was nothing short of excruciating. However, now companies are realizing real women (with real bodies) hunt and need gear that follows suit. I'd like to see women's gear and shoes in smaller sizes included in these stores. Also, I'd like to see ghillie suits in women's sizes, especially for duck hunting.
In terms of change, the only thing I'd like to see is companies themselves cease putting pink logos all over their hunting gear. Afield, it's not practical, and completely unnecessary.
ST: What is the ultimate goal of this collaboration?
KF: Lisa knows the products and the gear, and her feedback based on experience is what Wardens is counting on. LJB would never promote a product she didn't believe in and/or use herself, and we at Wardens respect and appreciate her ethics and expertise. A self-proclaimed "wildgametarian" (meaning she only eats meat that she has hunted, no processed meat for this little lady!), what she represents through Wardens Supply Co. is the modern "Huntress." We believe that our creative efforts as a collaborative team will be mutually beneficial. Wardens Supply Co. and LJB "The Huntress" are a rock solid team. Through our collaborative efforts and mutually designed goals and intentions, we believe that our relationship will continue to develop and grow in the hunting community and other target markets, groups, and industries long into the future. Our hope is that business and sales will parallel that growth, and anything above and beyond would be a happy bonus for all!
LJB: The Wardens Supply "From the Huntress' Closet" collaboration is intended to increase the reach of the army surplus/hunting gear to the extreme zenith possible in the women's market. For myself, I believe it's a way for me to be able to gather my favorite gear and allow others to see what I use, why I use it, and be able to buy it themselves at great prices. Daily, I'm asked what gear I use–this is a great way for me to have it all under one umbrella.