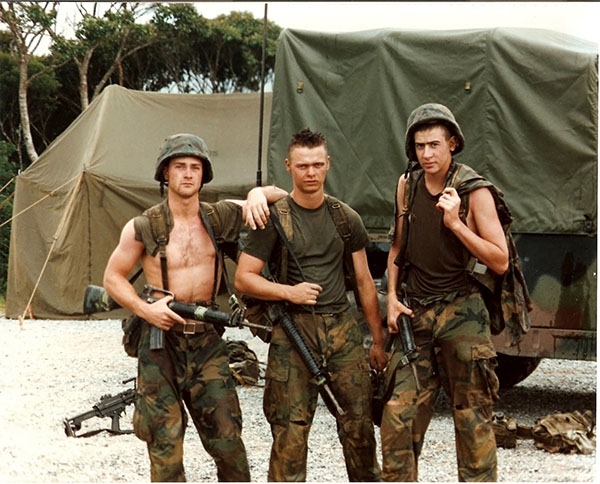 Tours of Duty – Vietnam War
[Editor's note: Surplus Today had the pleasure of interviewing several veterans from past and present wars to be part of our featured article in this issue. I chose the theme of Honoring Our Veterans, in part, because it precedes the month of November, the month we observe Veteran's Day. As the Editor, I try to reflect our mission of support and help to our troops. We all owe a debt of gratitude for those who served to keep us free. The photograph of statues is part of the Korean War memorial that reads: "Freedom is Not Free."  I hope you find these interviews as inspiring as I did.]
Sergeant Jack Brugger, USMC
In July 1968, I completed my Marine boot camp, infantry training, and 81mm mortar training. After a short leave, I was immediately sent to Vietnam. Back then, Marines were sent to Vietnam for 12 & 20. This means 12 months and 20 days or a total of 385 days. I don't know how they came up with this magic number, but we called it 13 months. I was assigned to 1 battalion 5th marine Regiment, Headquarters company 81 mm mortars. We were located about 25 miles south of DaNang in An Hoa.
Since I was in the weapons unit, I spent the entire time patrolling among the rice paddies. We went out on patrol until it was time to return to base camp. We did not have tents, but used our ponchos as an overhead shelter. When I first got there, I had no rifle. We got the equipment from helicopters that came back from the field with equipment they gathered from the wounded and the fallen.
We had only 1 set of clothes and two pairs of socks. Given the 110 degree heat, we were not pleasant to be around. We did not sweat because the heat took every ounce of liquid from our bodies. We got three canteens of water, but did not know when more would be coming out to us. At first we guzzled all three, then realized we had no more until we got more. After that, we rationed the water very carefully.
One time, I decided to drink some water from a well. Believe me, it was only one time! I got really bad dysentery. We did have iodine to purify the water, but it had a bitter taste. My mom sent care package with sugared Kool-Aid, so I could at least flavor it and mask the taste.
Speaking of food: at first we had C-rations, probably left over from the last war. It was all cans of stuff. Then we got MREs. The food came in large cartons and the unit leader would hand them out. We had our favorites and things we thought were gross. To be fair, the last one to pick from the previous day got first choice the next day, and so on. My favorite was pound cake with strawberries. Just like in grade school, we traded each other for the foods we liked the best.
To learn more about Sergeant Brugger's tour of duty, see page 48 of our October 2014 issue.
"John Doe" Construction Electrician, 2nd Class, US Navy
In 1968, I faced being drafted or joining another branch of the service. I decided on the Navy. One of the reasons I joined the Navy was to learn skills I could use in civilian life.
My rank when I started was: MCB (Mobile Construction Battalion) 71 CBU (Construction Battalion Unit). My home base was in Memphis.
Before being sent overseas, I did my basic training at Naval Station Great Lakes. The protocol was to be deployed eight months, then we had six months at home base. I was part of the Airedales CBs (Construction Battalion) which consisted of naval aviators, flight crewman and any flight deck crewman who were part of carrier operations.
My first deployment was at Davisville, Rhode Island, at the Naval Construction Battalion Center, where I went to A school to learn construction-related skills. With my training and hands on experience, I learned all aspects of construction along with my goal of learning how to be an electrician.
My second deployment was at Guantanamo, Cuba. There we rebuilt marine barracks. After that, I was deployed to Andros Island, at the AUTEC (Atlantic Undersea Test and Evaluation Center,) Andros Island, Bahamas.
The next assignment was being part of the main Battalion at Roosevelt Roads Base, Ceiba, Puerto Rico. There I worked on equipment operation, earth moving and every phase of building. We had steelworkers, welders, machinists and electricians.
Our uniforms were green fatigues with a gold eagle and two chevrons. We used grenadier 45 automatics and a M79 grenade launcher. Other firearms were: LC 60 machine guns, M60 machine guns, M14 rifles and M16 rifles.
My last orders were for shore duty at Memphis, Tennessee. My tasks consisted of any task I was given like, driving school buses, taxis and doing electrical wiring.
I served in the Navy for three years, nine months and 16 days. I was fortunate to receive an "early out" when my enlistment ended. My final rank was 404 E-2 (Construction Electrician, 2nd Class).
After my enlistment, I returned to a small town in Rhode Island and became an apprentice to an electrician. Finally, I went home to my small town in North Central Pennsylvania. I had no trouble after I got out of the Navy like some of my comrades experienced in the anti–war movement's treatment of enlisted men and women. I was still the person they knew before my enlistment. I still live in the town I grew up in and am happy to be here.
My work history was working doing industrial wiring, spending 12 years at a gas distribution company. So my training and military experience paid off.
Some of the wisdom I learned while being in the Navy was: keep mouth shut and stay out of sight. Also, keep your nose clean and clean stay out of trouble. Last is: Don't believe what your recruiter tells you.
My final thoughts are that the modern sailors have more restriction than we did in the Vietnam era. As long as we made muster in the morning, we had some freedom to do other things.
Read our other interviews about World War II, Operation: Desert Storm, and Operation: Iraqi Freedom. Thanks for reading!