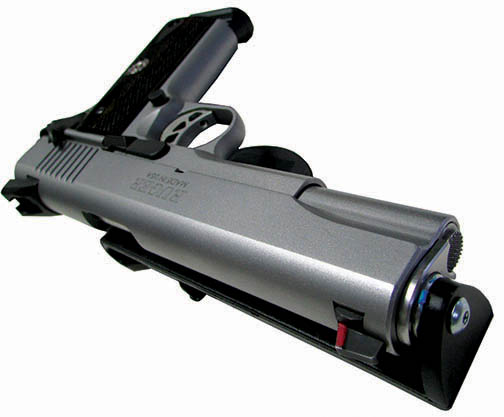 Versacarry Pistol Holster
By Anthony Yeary
Handgun holster technology has been evolving fast over the last two decades. Manufacturers of holsters have been going above and beyond, trying to outdo one another with their product's design. As the materials used in their production have improved, the style and methods that they are utilizing has improved too. One particular holster that has gotten a lot of attention lately is the Versacarry. It has been both criticized and lauded for its unique design, construction and philosophy of use. For those who haven't taken a closer look at this product, the Versacarry is a unique, zero-bulk holster of simple design available for many pistol sizes and calibers.
The Versacarry is a thin plastic device.  Think of its shape as that of the letter "S"; at the top is the belt clip and at the bottom is the firearm retention post. The belt clip is designed to work with a 1" to 1 ½" wide belt, and a small extension makes it easy to lift off of your belt. A sturdy purpose-made gun belt (like those offered by 5.11 Tactical or from Versacarry's website) is strongly recommended. The retention post is also plastic, medium in density with a steel peg core and is specific to a certain caliber. Initially holding the weapon at an angle, you insert the post into the firearm's barrel. From there, you insert the mated gun and device into your pants, clipping the belt clip over your belt and, if you desire, tuck your shirt in. That's all you need to do.
Remember that the Versacarry is an inside-the-waistband (IWB) only holster and it can be used untucked or with a tucked-in shirt. For the first few times some plastic shavings will be produced as the rifling cuts into the post, but it will not harm anything. There are a few seconds of required assembly, as most Versacarry's have a trigger guard to install. Some models do not have a trigger guard, but will have two filler pieces to insert into the trigger guard slots. They recommend you use them, and I do, too, as your pants and shirt will catch and you may tear your clothing or fumble your draw if you need to pull your weapon. Both the assembly process and its daily use are very simple and easy.
A lot of people have been making a point that the Versacarry is a safer alternative to Mexican carry. This is true as this holster properly retains the weapon, preventing it from falling. Plus, it adds virtually no extra bulk inside the waistband which makes you feel as if you're carrying without a holster. However, I posed the question "Is the Versacarry better than a slide holster?" For those who don't know, the slide holster goes back a long way; it's basically two pieces of leather stitched together at the ends and the pistol slides between them. Slots are cut into the leather to allow outside the waistband (OWB) carry with a belt and oftentimes a removable metal belt clip is added for IWB carry. 1911 enthusiasts have been using the slide holster for decades and now the Versacarry has arrived to challenge it.

I found that there were advantages to both holsters. The Versacarry is nice because it doesn't add that much bulk, but the slide holster is more comfortable. Plus, if you draw a pistol out of the Versacarry you cannot reholster it without removing everything and starting over, whereas you can reholster easily with a slide holster. And as far as which holster is easier to put on, I found them to both be just as easy. Another similarity is that both types of holsters are ambidextrous which is nice for lefties or righties who want to carry in a crossdraw position. Bottom line, I liked the slide holster better, but only by a small fraction. What extra bulk there is, is offset by it having a bit of cushion and being more comfortable, as well as the fact that you can reholster your handgun without removing the whole apparatus. Plus a slide holster can work as an OWB holster in a pinch if you need to carry in that manner.
Despite my minor criticisms, the Versacarry is still a great product. It is much more rugged than it appears and it delivers everything it says it does. When I bought mine and gave it a try, I found that there were no surprises or buyer's remorse. Their marketing and the reviews I read about it were accurate. It can usually be found at a great price and its usefulness means that you actually will use it, which is more than can be said about all of those OWB holsters that we all have piling up in our dressers and closets.
If you are looking for a more comfortable alternative to many other IWB holsters, try the Versacarry yourself. I believe that you won't be disappointed!