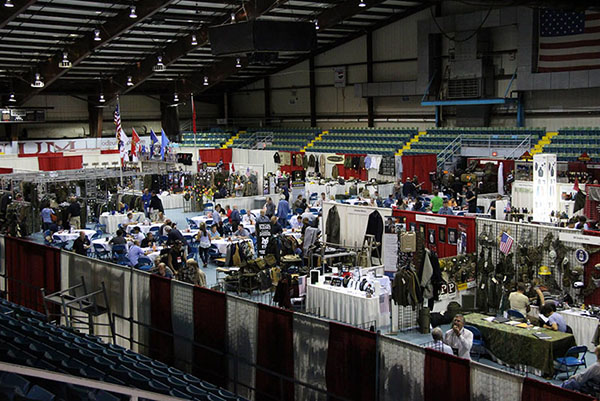 ANME Chicago 2013 Show Review
By Kiernan Manion
The ANM Expo in July was my first ANM show, and I was very excited to experience the thrill of familiarizing myself with the many awesome product lines, business owners, managers and staff during the event. There was a certain excitement about being close to a city with such rich history, culture and sheer mass as Chicago. I was pleasantly surprised at the wide variety of exhibitors, buyers and products offered by the Army Navy surplus, outdoor, tactical, and military supply markets. We welcomed 263 buyers into the ODEUM Expo Center, located 30 minutes west of Chicago, IL.
Though I spent most of my time assisting with the now-streamlined registration system, welcoming in buyers and meeting with exhibitors, I did have a good amount of time to wander the show floor, taking in the sights of the racks, tables, shelves and other display elements within each booth throughout the ODEUM's open arena. The floor was filled with a large selection of products that filled the booths of this summer's Expo. Here is a brief description of the Expo's advertisers and my first-hand impressions of the show.
AmeriGlo brought a collection of chemical light sticks, perfect for marketing to woods-travelers or survivalists. Supplying bulk packs of light sticks in tons of different colors, and even supplying other light options such as personal flotation device (PFD) lights, rescue lights, and safety squares for training in dark areas, are fantastic options for stores looking to reach the emergency preparedness and outdoor demographics.
Similarly, K-Light Lantern exhibited a vast array of solar-powered lantern options, which are ideal for outdoor activities like camping, hunting and hiking, while also suitable for disaster scenarios. This awesome product serves not only as a renewable lantern, flashlight, or task light, but also can work as a phone charger too. You'll definitely want to consider K-Light Lanterns for a roster spot in your Army Navy store.
MRE Star is a leading manufacturer and supplier of MRE meals and military-style rations. Another provider of af­fordable food storage and MRE options for surplus buyers is Wise Company of Salt Lake City, UT, who brought their assortment of freeze-dried and dehy­drated foods, which carry a shelf-life of up to 25 years. The top-quality ingredi­ents and specially-designed packaging of these companies' products ensure exemplary nutrients, flavors, freshness and shelf life. Both of these compa­nies also provide another niche area to market to your customers, particularly within survival and prepper move­ments.
Walking the show, there were large displays of hunting, camping, and survival equipment on display, with companies like AA Surplus, Ohio Military Surplus, Allender & Company, Surplus World and Warden's Supply specializing in military-grade, proven outerwear, including jackets, boots, vests, and a wide selection of high-demand colors, sizes and styles. I was very drawn to the sheer number of items that were available at the Expo; I kept imagining all of the potential uses for the gear in front of me, and could clearly see the connections within the industry.
Government Liquidation, exclusive contractor for the sale of surplus and scrap assets of the U.S. Department of Defense, was also in attendance. With over 500 different commodity catego­ries and thousands of products up for bid on a weekly basis, an international supplier of U.S. military surplus products has something to offer in most lines of the industry and a variety of other markets.
As a unique addition to the Expo lineup, Battlefield Collection displayed their authentic athletic and sportswear, including football and baseball jerseys, hats, and other ap­parel that are fully-customizable and officially-licensed by all branches of the U.S. Armed Forces, including the Army, Navy, Marines and Air Force. The pride movement for veterans and supporters of the U.S. military is a viable one for surplus stores, and the Expo featured a few concrete sources for products to fit that customer base.
Eagle Crest of Jacksonville, FL, provided a selection of active duty and wholesale military caps, patches, key chains, dog tags, license plates, and other products covering all branches of the armed services.
As a national leader in emblems, insig­nias, decals, pins, patches and other patriotic merchandise, Eagle Emblems, Inc. had a strong visual display of inven­tory and point-of-purchase product displays. The displays lined along the back of their booth were filled with a number of unique pins and emblems that are sure to attract retail customers with their variety and affordability.
Sponsored by Eagle Emblems, The K.I.A. Honor Flag Program was also front-and-center at the Expo, hold­ing flag signings for Gold Star families of fallen soldiers. The mission of the Program is to give a free KIA Honor Flag Package to every family that is con­nected to a fallen hero with honor and respect. This unique package is offered to K.I.A. families at no charge and is used to honor fallen heroes and their families.
Our True Hero provides fine jewelry and engraving services for soldiers and their families. The mission of Our True Hero is to call attention to the true heroes, the brave men and women who serve our country. The creative capabili­ties and energy of this organization and its products would make a fine comple­ment to any military surplus business.
Witnessing first-hand the many apparel options for the buyers at the show reinforced the strong demand for printed clothing, which is a busi­ness staple for many Army Navy sur­plus retailers. Erazor Bits had a select arrangement of their award-winning T-shirts, long-sleeve tees and hooded sweatshirts, printed with colorful de­signs supporting the U.S. Armed Forces. Joe Blow T's brought a wide collection of shirts featuring military, law enforce­ment, fire/rescue and other patriotic messages. They also carry an extensive lineup of other T-shirt and sweatshirt options.
Soffe of Fayetteville, NC, exhibited their lines of clothing products, combining both casual cotton tees and shorts with tactical team and military fabrications. In business since 1946, Soffe also carries a long line of women's and children's clothing. The tactical and sporting variety at the show was impressive this year, and there were plenty of reliable supply lines to fit the demands for these particular products.
Voodoo Tactical showcased padded weapon cases, tactical vests, MOLLE gear, range bags, sunglasses, and watches. Checking out all of this equip­ment first-hand throughout their setup at the show gave me a clear idea of just how cool this stuff is to see up close.
Ninja Paintball was in attendance at the Expo to promote their U.S.-made paintball and PCP Air Rifle equipment. The paintball supply lines that Ninja Paintball provides, from markers and tactical equipment like masks, vests and gloves to hoses and fittings, are a great source for stores looking to break into an industry section supported by tacti­cal sports enthusiasts.
Representing another growing move­ment in the industry is Valken Sports. Airsoft is a hot topic within the outdoor and military communities, embodied by Valken's lineup of airsoft and paintball products. With over 50 brands avail­able, Valken is a leading manufacturer and distributor of airsoft handguns, shotguns, rifles, ammo, sights, vests, and anything else you'll need to attract buyers from this marketable customer base.
This year's Expo attracted a number of international buyers as well, which fit nicely with the wide variety of interna­tional suppliers on the show's roster. LaTranchee Militaire, French-owned surplus supplier of European mili­tary BDUs, jackets, and other unique military equipment, does business with companies around the world to bring the most sought-after options to the Expo and retailers alike. LaTranchee seemed to have a little of everything at the show, including some interesting items that you would never imagine seeing at a military surplus expo.
Many manufacturers and distributors of specialty products were available to buyers looking to stock hard-to-find, unique items for their stores' inventories. Blantex, Inc. encouraged attendees to try out any of their avail­able North American-made steel cots and beds, which are ideal for disaster relief, camping, and any other use for a practical, portable place to sleep.
In support of the show, we would like to thank Hayes Tooling & Plastics for their contribution of canteens to ANME Chicago. They provided an assortment of hunter green and hot pink canteens which were enjoyed by everyone at the Expo, exhibitor, buyer, or staff, and from my personal experience, serve their purpose well in keeping hydrated on the go. Not only that, but the Hayes Tooling & Plastics military outdoor products for hydra­tion and nourishment are great consid­erations for Army Navy stores.
Explorer Bag marketed numerous lines for backpacks, luggage, duffels, holsters and many other products for hikers, campers and survivalists. The numerous brands, fabric quality, pattern and stitching details used on Explorer Bag's products fit nicely with the demands of Army Navy surplus customers.
Filling a large section of the industry, the colorful variety of products present­ed by R&W Rope Warehouse attracted a number of buyers throughout the duration of the Expo. With rising sales within the industry, rope-based prod­ucts are very marketable within surplus and outdoor stores for their many uses. Offered in a large assortment of styles, material and colors, these products can be used for sport and climbing, safety and rescue, marine rigging and much more.
As the largest U.S. manufacturer of web belts, suspenders and shirt garters, Jackster, Inc. presented some very useful products for retailers in the industry. For tactical, combat, or outdoor implementations, Jackster's products prove to be a favorable addi­tion to retailers seeking out accessory lines and looking to expand their repeat business with those buying military clothing and gear.
With their mixture of storage options for ammunition, outdoor supplies, mili­tary equipment, medical instruments and more, Ammo Can Man, LLC fits an exclusive role in the Army Navy surplus industry. They carry everything from food storage to boots and bags, and of course, ammo cans.
Sock Company, LLC had an important element of the industry at the show: durable, warm, and comfortable anti-microbial socks. Quality socks are always a high-demand item for hikers and campers, who are becoming a stan­dard customer target for many surplus stores across the country.
As a wholesaler of pepper spray, batons, knives, stun guns, tasers, home security, surveillance equipment, and more in the realm of personal protection, Security Plus USA from Palm Beach Gardens, FL provides plenty of options to consider when reaching demograph­ics in which crime and protection is a large priority.
Lewis N Clark displayed tons of premier adventure gear at their booth, includ­ing filtered bottles, travel pouches and packs, camping accessories, rainwear, and plenty more. With a focus on high performance, stylish design, and dura­bility, Lewis N Clark has been in busi­ness for over 20 years. The manufactur­ing quality of Lewis N Clark's products and many of the other vendors at the show are far superior to the products found in big box stores throughout the states.
As an essential component of the industry, the extensive variety of Army Navy surplus and outdoor manufac­turers and wholesalers at this year's Chicago show really showcased their massive inventory options.
A long-time supporter of the show, Coleman's Military Surplus had dozens of hunting, camping, emergency and survival gear from US Army/Navy and European surplus lines. Coleman's is a trusted source within the military surplus industry, and with over 30 years of providing retailers with several lines of genuine United States military surplus, they are willing to put in the extra effort to find and deliver specific product sources for retailers across the country and even outside of the U.S.
Jax Mercantile placed many varieties of outdoor and adventure options for men, women and children on display. They also sell a number of lines for ranch and farm uses, from tools and truck/trailer accessories to numerous animal, equine and livestock options. These are considerable choices for stores who serve many rural and country customer groups, but can also be implemented within metropolitan areas.
P&A Surplus, based out of New Jersey, attended the show featuring a collection of their Army Navy surplus and outdoor clothing, including GI parkas, shirts, pants, and jackets. Much of the outer­wear, footwear, field gear and packs/pouches that P&A Surplus carries have been used by soldiers within the armed forces, and are proven to be reliable products for those seeking authentic, reliable gear.
EMCO Supply Inc. / Red Rock Outdoor Gear brought a number of hunting and outdoor products to attract customers this fall season. Basing their business on excellent customer service and new products, EMCO/Red Rock works to stay current with industry trends in bringing the best options to Army Navy surplus retailers across the states.
Schwarzman showcased a variety of American and European surplus prod­ucts to the show this year, including an array of flight and bomber jackets, cold weather accessories, footwear, and much more! Their catalog covers all the bases when it comes to military surplus, offering many wholesale options for retailers to choose from.
Schreck Wholesale, a hometown exhibitor from Chicago, specializes in military surplus and has a wide selec­tion of weapons, tactical, and outdoor equipment and accessories. Schreck has three warehouses with tons of genuine military surplus, re-enactor's supplies, military uniforms, camping gear, WWII field gear and militaria. For an in-depth spotlight on Schreck Wholesale, check out our previous (July) issue of Surplus Today.
Sturm European Military Surplus specializes in authentic surplus from overseas. As the largest distributor of European military surplus around the world, they always have a large stock of original war and armed services prod­ucts available through wholesale. Sturm buys direct from various governments and wholesalers from around the world and directly imports the surplus on a weekly basis, carrying over 2,000 differ­ent items in stock.
Major Surplus of Gardena, CA, put up a great display of their adventure gear and military-inspired coats, jackets, bags and other supplies (complete with a rocket launcher!). The arrangement of products at Major Surplus' booth had something for everyone, and in talking with them, I was impressed by their knowledge and enthusiasm for promot­ing their line of military surplus merchandise.
Fox Outdoor Products is another native Chicago business and direct importer and distributor of high-demand out­door and military-style inventories profiling tactical, enforcement, military, and other lines. They've revamped their ordering process as well, making it easier for retailers across the globe to carry top-quality Fox Outdoor gear in their stores.
Military Outdoor Clothing (M.O.C.) featured a huge display of their own line of clothing & gear ranging from Battle Dress Uniforms (BDUs) and Army Combat Uniforms (ACUs) to military-spec duffle bags. M.O.C. also designs and manufactures tactical clothing & gear under the brand name "Diplomat," which has received the highest rating from the National Tactical Officers Association (NTOA). Their 100,000 sq-ft. warehouse located near Dallas, TX is loaded with equipment that would fit any surplus, outdoor, or tactical store's product lines.
The entire weekend of the show was one of the best of the summer for me. I made a point to arrive earlier in the week to enjoy the sites, eats, and experi­ence of the Chicago and metro Chicago atmosphere. For me, cruising through the freeways (and sitting still, at certain points) and absorbing the city's magnificent skyline to and from Villa Park was a treat, and it was generally exciting to be close to one of the largest cities in the country.
As for the show, I met so many really cool people: business owners, buyers, exhibitors and their staff members. The quantity and variety of interesting products and passionate people really struck me in a positive way.
I want to thank all of the exhibitors and buyers that made the 2013 Army Navy Military Expo in Chicago something I'll remember and look fondly on for a long time. For a complete listing of ANME Chicago Exhibitors and additional in­formation on the products and services they can offer to your business, check out the July issue of Surplus Today or visit the Industry News section!
If you are interested in attending or ex­hibiting at next year's shows at the Rio in fabulous Las Vegas in January, visit ANMExpo.com for more information on featured exhibitors, registering as a buyer, and more!
Editor's note: I am pleased to introduce you to our newest addition to Surplus Today, Kiernan Manion. Kiernan received his degree in Professional Writing from Michi­gan State University (I forgive him because I am a Buckeye, and we both are NOT Wolverine fans!). Some of you met him at the ANM Expo in Chicago in July. Kiernan's enthusiasm, ideas, hard work and writing skills have proven to be invaluable in helping us produce a high quality product: Surplus Today.