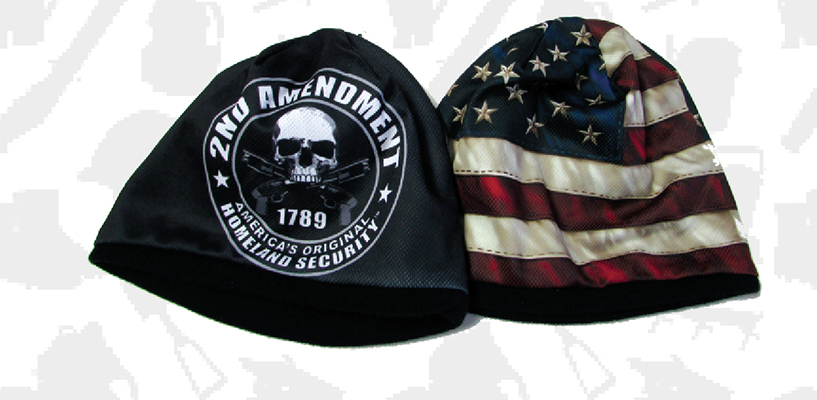 Hot Leathers Beanies
By J.D. Williams
Biker culture is the embodiment of freedom, danger and toughness, three traits that also fit the people that shop at Army/Navy, outdoors and tactical stores. Much of the apparel and supplies for those who love to ride can be found at these stores. This is especially true for items like T-shirts and beanie caps, where the messages of freedom, patriotism and menace displayed on the apparel appeal to both biker and non-biker alike. For this reason, you may want to consider stocking Hot Leathers beanies in your store.
These soft beanies are durable and warm, with a polyester outer shell to break the wind and an acrylic lining to insulate the head in cold weather. Polyester is also a good fabric for resisting rain. The beanies are one size fits all, but they fit snugly around even those with big heads. These are ideal products for riding or for withstanding the elements.
What sets these beanies apart are their designs. Hot Leathers offers 30 different designs to choose from, with everything from "hot rod" styled fire patterns to various skulls and icons of biker culture. The designs that would be most popular within your store would most likely be their patriotic and Second Amendment graphics like the two beanies we reviewed. All the designs are attention-getting and edgy, and are printed onto the fabric using sublimation. Sublimation printing transfers ink to polyester-based fabrics using heat transfer, which turns the dyes into gas that bonds with the fabrics chemically, and is absorbed into the polyester itself. The design then becomes part of the fabric, making the designs more durable, and minimizing fading, cracking and peeling. This also makes sublimation printed items lighter than their counterparts printed under more normal processes.
If you have customers who are bikers or identify with the biker culture, or if you have customers that are simply looking for a functional beanie that has an eye-catching design and will help protect them against the wind, cold and rain, then it would be a wise investment to have some Hot Leathers beanies in your inventory. For more information or to order, call Sheryl Lejfer at: 800-845-0084, ext. 227 or email her at cheryl@hotleathers.com.