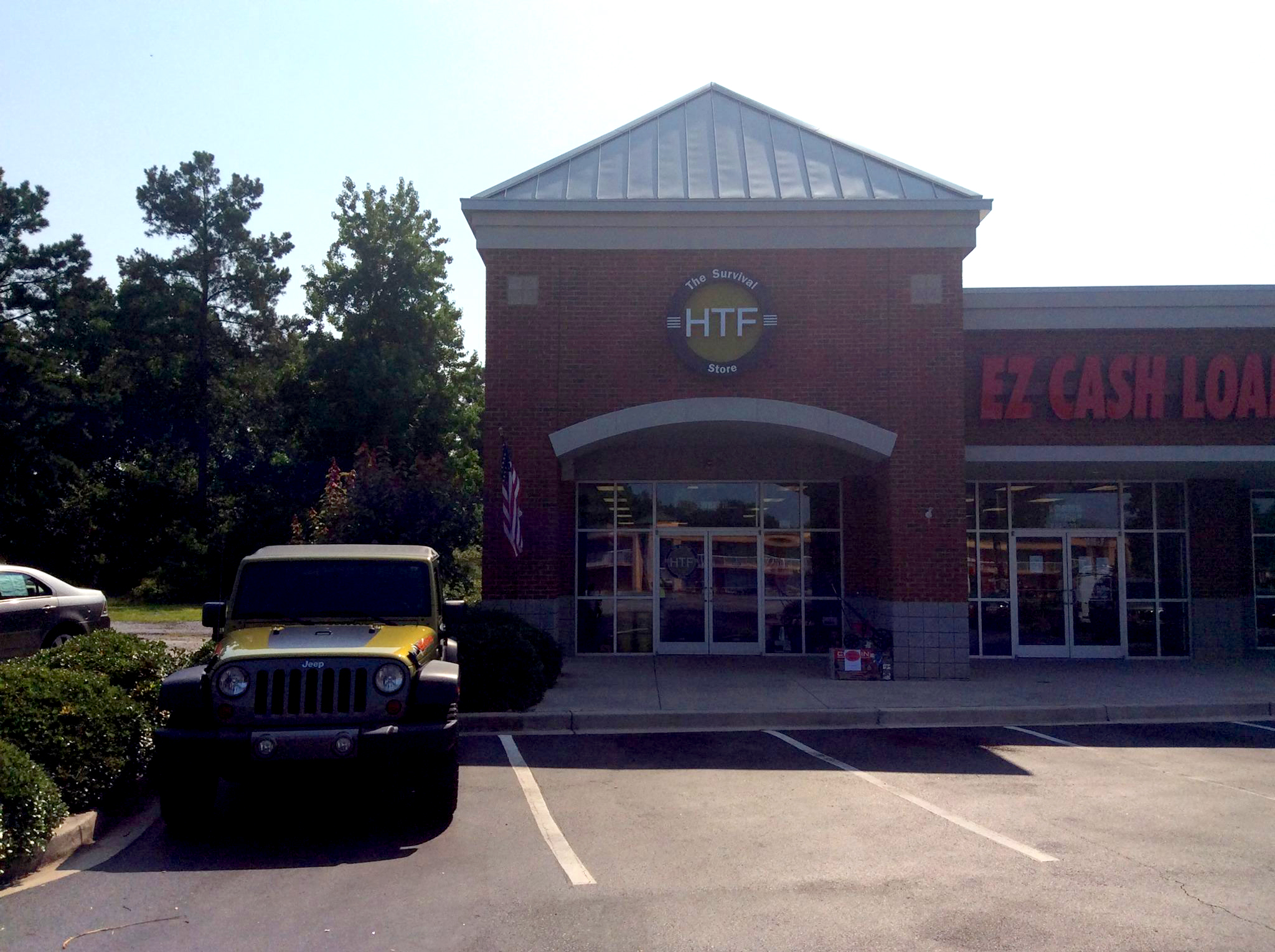 Industry Spotlight: HTF Survival Store in Anderson, SC
Tell us about the history of your company
Growing up in St. Louis, the earliest report I remember writing in school was a comparison between the New Madrid earthquakes in 1811/12 and the San Francisco earthquake. Also, being a child at the end of the Cold War ingrained a bit of, "What If…?" into me.
Years later, just after 9/11, while talking with several couples during a party, I asked who of our neighbors was prepared should something major happen? The question was met by blank stares and the typical reply, "we will come to your house." I vowed then that helping my neighbors develop some ability to prepare would make better neighbors.
I weighed the options: join the ranks of Internet stores where people have very little stake in the game, or have one of the few brick-and-mortar retail stores dedicated to survival and preparedness. I settled on the latter. As a salesperson all of my life, having the interaction with my customers is important to me.
In November 2014, we opened HTF – The Survival Store in Anderson, South Carolina. We consider this to be our flagship store even though we have yet to open a second location. Everything we do is with an eye to success and future expansion, and even franchise.
The last two years have been a long road, but we are finally seeing some light at the end of the tunnel. Knowing that a large amount of businesses do not see their second year and that we are just entering ours makes us proud and ready for success now that our base is established.

What sort of products do you offer?
While we cross over into some camping and hiking products, HTF is focused on survival and preparedness products. We supply water storage and filtration products, long-term food and storage solutions, seed vaults, books, sun ovens and other alternative cooking solutions and much more.
What are your best sellers?
Some of our best sellers are the Sawyer mini water filters for bugout bags, UV Paqlite as an alternative and renewable lighting source, various fire starters and my favorite product, the All-American Sun Oven.
What makes your company unique?
Besides the fact that there are not many stores that are focused like ours, one of the major things I want HTF to be is an environment where anyone would feel comfortable. Preparedness can scare a lot of people away. They have a certain fear, and the "prepper' stigma is something we battle. We could have gotten our FFL [Federal Firearms License] and supplied firearms, but if we had done that, we would be just another gun store. The store is brightly lit and we don't have a lot of camo on display. We don't want to scare away the mother with four kids; we want her to feel comfortable enough to ask questions about getting her family prepared for a crisis.
We want our customers, even though the subject can be grim, to feel that they can talk to us and share ideas. We are ALWAYS open for feedback; we realize we could not be successful without our customers.
What can you tell us about the people who purchase your products?
Our customer base varies for sure. We have pretty much all economic and social classes, from the banker who wants to ensure his family has what they need in a crisis to the regular working Joe who wants the same. Most of our customers have one common denominator: they are paying attention to national and world affairs, and don't like what they see. They feel something is lurking in the future and they feel that the time to be prepared is now.
Is your business a family-owned business?
Yes, my wife and I are the sole owners. We have one other contract employee at this time.
What advice might you give to small or family-owned businesses?
Location matters, and be prepared not to get paid for a while. All of your time and money goes right into the business. It helps to have a second income in the home for support. It is hard work and not for those who just want to play at it.
Do you use any sort of online resources, such as social media and e-commerce?
We use Facebook, LinkedIn, YouTube and Twitter regularly. In fact, I try to post at least once a day onto Facebook, which auto-posts to Twitter. We post about new products, events, interesting articles and our own blog posts. We have been using Facebook Live quite a bit lately, just giving a quick overview of an event we might be attending, showing our products and some commentary.
We use LinkedIn mostly for professional contacts and also to keep in front of former business associates and remind them to be thinking, "What if …?"
On YouTube, we post videos of products that we want to give a more thorough explanation of or feature. We also post some events and other things.
What would you recommend surplus and outdoor stores do to take advantage of this medium?
Be consistent and don't stop. There is nothing like going to a company page and seeing they have stopped using social media a year ago. It makes me wonder if they are still in business. Or just ran out of things to say.
Try to post at least once a week. I will schedule a post in advance just to make sure we have one going out. In fact, many times I will schedule a few days out with timed releases, just in case I am too busy to think about it.
What features of Surplus Today do you find enjoyable or useful?
We enjoy the product reviews. We try to bring a new product into the store every week. Sometimes it is hard to choose what that might be on a limited budget. But product reviews are always helpful in making those decisions.

Is there anything else you would like to add?
Prepping can be a life or death decision. The reason a person has decided to prep is because they have looked at the local, regional, national, and world situation and they want to protect their families and themselves. There is a lot of stress involved. Because of this we like to bring a little levity into the atmosphere. It helps de-stress the situation.
Humor is a great equalizer.
[Editor's note: Thank you Paul Thuneman for providing this interview.]
HTF – The Survival Store
3016 N. Main Street, Suite G, Anderson SC 29621
864-401-8601
www.htfsurvival.com