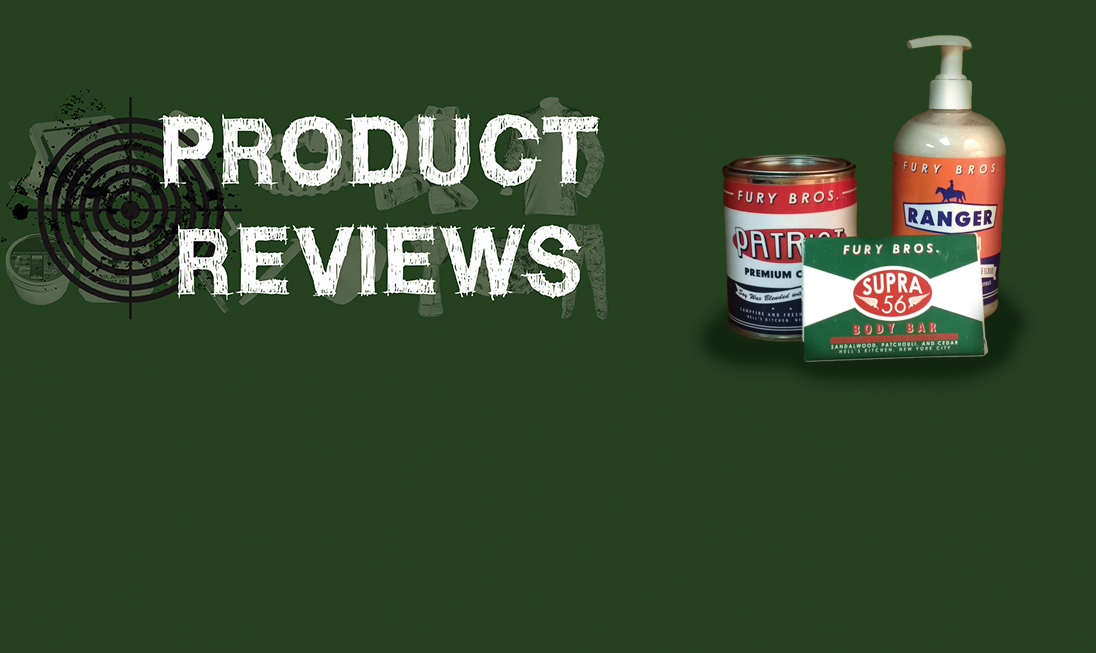 Product Review: Fury Bros. Candle & Soaps
By Raina Kuptz
Do you like scented candles and hand soaps, but would you rather have something more suited to your man cave than lilac or rose scents? Does a "fresh laundry" scented candle only remind you that you need to do the laundry, and is the common "rain" fragrance anything but rain to you?
Fury Bros. may be the answer to your Americana-scented prayers. You see, the Fury Bros. are a band with a winding story that lead them to a passion for nostalgia and vintage styles and design. Time spent in Hell's Kitchen, Manhattan, added to a love for classic and vintage crafts and recipes. The end result was an interesting take on what otherwise could be mundane products.
The Fury Bros. line of products consists of candles, hand soap, bar soap and solid cologne in its own tin. Each product comes in one of the set of themes: Ranger, Night Owl, Supra 56 and Patriot. Additionally, the candles come in Harlequin, Black Beard, Mojo and Betty.
So just what are the scents? We had the opportunity to try out the Ranger Power Wash (hand and body soap with a soap pump), the Patriot candle and the Supra 56 bar soap.
The Ranger Power Wash soap is a pumice scrub, a good manly exfoliant or, more to the point, good for getting dirt and grease from your hands. Pumice is lava rock, after all, you just don't get more gritty than that. Ranger claims to smell like saddle leather with pine and citrus – and it does. The leather scent is lightened just slightly with citrus, but it is certainly noticeable.
The Patriot soy candle is in a metal can with a bold red, white and blue retro design; it looks more like a paint can upon first glance. It lights easily, burns well and spreads the smell of patriotism: fresh-cut tobacco blended with campfire. It's a spicy smell, but not overwhelming. The candle is set to burn for up to 80 hours.
Supra 56, received in body bar form, is an ode to the American explorer and traveler. The scent is one of nostalgia. The scent itself is a mix of sandalwood, patchouli and cedar, a slightly more subtle and natural scent than the other two. If ever you were to grab a leather suitcase and get on a train to head on out to the great American unknown, this is the soap to take along.
In testing, they appeared solid, quality products. All products are vegetable-based with natural oils, not tested on animals and made in the USA. These products would do well sold as gifts, or for someone who wants an "excuse" to buy fun, scented products while still appearing manly. To find out more or to order the products, contact Fury Bros. at 446 West 50th St. #5E, New York, New York, 10019 or on their website at www.furybros.com.