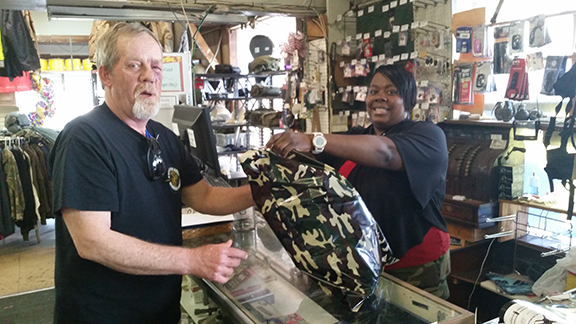 A Word With Mrs. Nadia, owner of Mrs. Nadia's Army/Navy Store in Bess, Alabama
The many surplus, tactical and outdoor stores who read Surplus Today all offer something unique and special to the industry. One of these is Mrs. Nadia's Army Navy Surplus in Alabama, which has the distinction of being one of the few stores owned and operated by an African-American Woman. A former supply specialist in the US Army, Nadia has brought her experience, personality and family to the business. Surplus Today caught up with her to get a few of her thoughts on the industry and her place within it.
ST: How did you acquire your surplus store?
Well this was kind of a funny thing, I was praying about what would be my next business venture. Joyce Underwood, the previous owner, visited my church and we began talking about the store and that she had considered letting it go to do other things. I told her I was interested in getting it. We both prayed about it and the rest is history. God had a plan and we were just obedient.
What were your opinions of the surplus industry when you got the store? How have they changed since?
I felt that the surplus industry had many avenues to be explored, because people are always looking for an inexpensive or cheaper way of getting what they want. My feelings haven't changed much since then, except even used items aren't always as cheap as people may want
What role does customer service play in how you manage your store?
Customer service plays a major role and is very important to us. Part of managing our store is securing distributers to provide our customer with whatever they need within the scope of what we sell.
What are some of the things you do to ensure quality customer service?
We keep many items in stock to ensure our customers can find what they need but if we don't have it in store, we do take spec orders to get products for our customer that may not normally be shelved in here.
How important is your staff to your store's success?
It is important that customers receive the same great service, no matter who is working that day, this way customers will continue to come. At this time I have no employees other than me, my husband and my daughter.
How has being an African-American woman affected your reception within the surplus industry?
In the industry it is usually a shock when people discover that I am an African American female at the many events I attend in this industry. I find myself one of very few black women there if not the only one, but I would like to believe that people have gotten beyond the color barriers by now, because we have much more threatening issues to deal with in the world aside from that. I will say even being the odd ball, people have been cordial and polite to me during my attendance.
Has that had any affect on how you are viewed by customers?
Many of my customers of all races don't know they are dealing with the owner. They normally assume they're dealing with an employee and I don't tell them any different, as long as they're happy, or at least content when they leave.
Can you describe the type of people who generally come to your store?
We get a wide array of people: current military soldiers missing a uniform piece, to doomsday preppers, to law enforcement and security, deep south, country rednecks to the local church youth group, or women's ministry.
What are their usual preferences, or what do they typically look for?
They look for camping or hunting stuff, gas masks, badges and duty belt items, boots, camo: the works.
What do you enjoy the most about working in the surplus industry, and what would you change about it?
I enjoy meeting new people, and the ability to provide them with things they couldn't find anywhere else. You never know what you may find in the surplus industry. You never know what old relic someone may bring in.
How do you handle complaints or negative feedback from customers and /or employees?
We learn what the complaint is and why it occurred, then we reevaluate it to ensure we don't repeat the same error with another customer.
Where do you see the industry in general, and your store specifically, in the next ten years?
In ten years we will have our current location renovated and one more location opened. I believe there will become more demand for surplus items and we will expand our inventory to meet as much of our customers need as we can.
I am prior service 8yrs US Army. Part of the irony of me getting the store when the opportunity presented itself was the fact that my MOS in the military was 92y AKA Unit Supply Specialist, so this was my job in the military. That was a major benefit for me, because I really already knew a lot of the products coming in the door!
You can find Mrs. Nadia's Army Navy Store at 831 19th St. N, Bessemer, AL 35020.