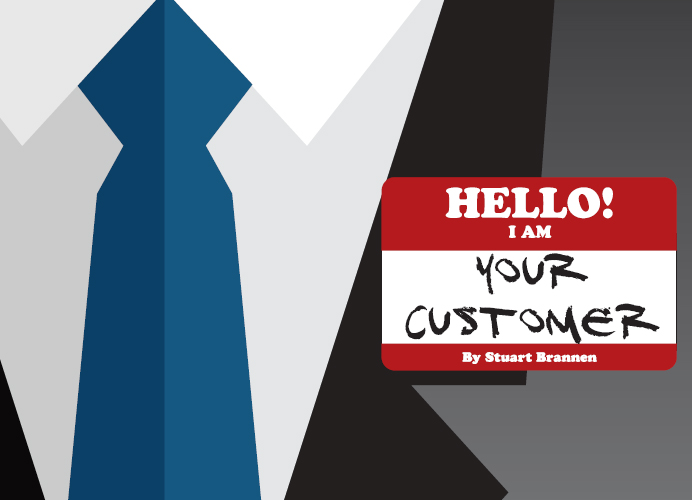 Hello! I am Your Customer.
By Stuart Brannen
As I look back on the business articles that I've written for Surplus Today, one area that I haven't covered is the vitally important concept of customer service. I was contacted by the editor for our summer edition on the subject of customer service. I shared that our readers might greatly benefit from expanding their awareness on how to better connect with their customers in an effort to win their appreciation and continued business. She thought it was a splendid idea, so in this article, I will highlight how anyone who works in a retail environment can better gain the smile of a satisfied customer and improve their customer satisfaction at the same time. Here are the building blocks…
Remembering the Human Face
Customers are people and they all have a face and a story to tell, so how well do we know and interact with our customer(s) really? If you are in the business of selling military surplus or outdoors products, ask yourself and your staff about the last time an opportunity was taken to appreciate the face of the customer? As a way to answer this, how does your staff recognize the chance to compliment a customer when they walk in the door? Rather than asking "How can I help you?" which is guaranteed to put most people off, what about just saying with a smile "How's your day?" The notion here is to first seek to generate a positive frame of reference or understanding with your customer, and then to build a bridge with them towards getting what it is that they want. The key here is to first see the customer as a person with a unique story, need or want and then to simply build on the human face of that relationship.
Service at the Speed of Trust
Rome wasn't built in a day, but by listening to what a customer wants or by building a genuine sense of empathy towards why they have walked into your store in the first place, will go a long way with how they interact with you. For instance, if I know that I can go down to Mom and Pops Surplus Store or Backwoods Outdoors Store and buy a particular pair of boots or piece of equipment that "has my name on it" because the owners have taken the time to get to know me and I can trust their recommendations, then am I going to be a repeat customer? You bet I am!  In contrast, if I ask for a certain type of boot and the customer representative doesn't know things like price point, features or how it performs in the field, then "They don't know me" and will most likely not get my business. Trust is gained by focusing on the customers' wants and letting them know that you have their best interests at heart.
Loyal Customers
A loyal customer is someone who will repeat their visits to your store and will most likely buy from your store much more than a walk in customer. The key here is to build their loyalty to your store by offering things like email notices regarding sales, offer in-store demonstrations about a particular line of products, or give them volume discounts if the total of their purchase is above a certain dollar amount. A coffee pot brewing free fresh hot coffee at the front of the store will always be a small yet subtle reminder of the special attention you and your staff give to returning customers, and can be a habit a loyal customer will come to enjoy while shopping at your store.
Word of Mouth Referrals
A customer who walks away from your store satisfied and has had a great experience will more than likely talk about their store visit with their friends and relatives, and when it comes to customer service, that is what you are looking for. Keep this in mind as you interact with them when they are in your store, picking up products and turning over the price tags. By recognizing that there are multiple sales to be potentially gained by paying attention to not only great individual service, but by the word of mouth reputation that comes from going the extra mile will result in more people walking through your door.
Matching the Collar and Cuffs
You might be thinking about a shirt here, but what I'm referring to is making sure that all of your coupons, mailings, advertisements, and Internet offerings all match up. A vibrant Internet site is key to the success of many businesses interacting with their customers electronically and on the web. For matters of convenience, a customer may visit your site, click on a few links and if they like what they see, there is a chance that they may buy right there and then, or they may decide to come into your store. Either way, by taking the time to update your site frequently, by sending out promotional advertisements that are clear, understandable and are of good value, will ensure that your customers will have a rewarding experience when they interact with your goods or services.
Ask for Feedback
Many retailers today at the point of sale ask the consumer to fill out a survey and win a chance for a prize or receive a discount on their next purchase. The survey link is often on the front of a sales receipt and achieves a couple of key objectives: 1) It provides the store owner with great feedback that they may not be aware of, and can make timely changes, and 2) It incentivizes the customer to look at your store in a way that they may not have before, anticipating the possibility of winning a prize or actually getting a discount the next time that they shop at your location. Either way, there are multiple wins here, and by asking for feedback, it can tie a lot of good things together.
Visualize a 10
For every customer that comes through your door, think about the service they will receive, the quality of goods they will look at and the price they will pay. Then ask yourself a very simple question, "On a scale of 1 to 10, how would I rate their experience in our store?" From the customer service representative's eyes, the goal is to consistently aim for a 10. By simply becoming aware of this insightful little technique and combining it with some of the other points I emphasize in this article, your customer service will most certainly improve, and everyone will be smiling. Onwards!