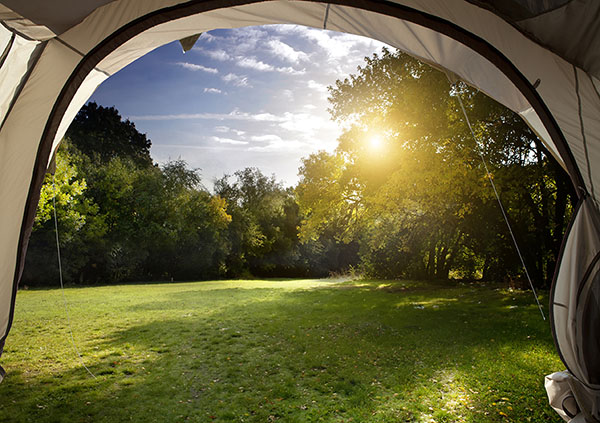 Camping & Outdoor Product Reviews
The following products have been provided to Surplus Today by a number of manufacturers that produce high-quality, innovative products for camping, hiking and exploring the great outdoors.
We hope you enjoy reading about these products as much as we did testing them and passing on the information to you. For more details, please contact these manufacturers directly.
---
HEAVY COVER TITANIUM USGI STYLE CANTEEN MESS KIT
The Titanium Canteen and Mess Kit from Heavy Cover is manufactured using a material with the highest strength to weight ratio of any product like it on the market today. It is a lightweight, durable hydration and cooking product for backpacking. The US GI style canteen mess kit has served millions of service men and women and outdoor enthusiasts over the last century. The compact design is wide and thick at the base, offering standard capacity (37 oz.) with more packing options. Weighing in at only .7 lbs, it is 45% lighter than steel, but just as strong with nearly twice the durability.
Our first impression is how tough it feels, even through stress-testing by squeezing, dropping, banging and cooking directly over an open flame or canister stove. It boiled water in minutes and cooked rice over a bed of coals with no sticking at all. Even stainless steel won't survive what this titanium mess kit can withstand. Also, springing for the titanium cap at the small extra expense is far superior to the weaker plastic alternative.
If you want the best outdoor or survival pack you can build, buying this product first will save tons of money over a long period of time. Low-quality alternatives will have to be replaced regularly and could fail you when you need them most. This is a must-have for hiking, camping and survival situations.
For more information, visit www.HeavyCoverInc.com.
Some of the benefits of titanium cookware:
Biocompatible (BPA Free, Nontoxic)
Non-porous, non-stick material, easy cleaning
Rapid heat conductor; uses less gas/fuel and produces a faster boil time.
Canteen won't puncture or rip like plastic.
Anti-corrosive and will not rust.
---
RENOVO TRIO THREE-STAGE WATER FILTER
The Renovo TRIO is one of the most advanced water filters available. The unique three stage process and industry leading filter pore size of 0.05 microns ensures you can have safe drinking water wherever you have a fresh water source. With a filter life and capacity of 1,000 L (you are able to clean and replace the filter) and flow rate of 200 ml/min, this is a quality, enticing product for any outdoor enthusiast to investigate. The TRIO filter weighs in at only 3.5 oz. and the dimensions are 7.1 inches x 1.4 inches, a compact fit for backpacking or hiking.
Drinking from the wrong water source can expose you to toxic contaminants. This filter is ideally suited to remove over 99.99% of contaminants, including, bacteria, protozoa, heavy metals, organic compounds and even some viruses. The power of the TRIO filter lies in the combination of a pre-filter medical grade UF (ultra-filtration) membrane filter and carbon fiber absorption filter.
Ultimately, this filter offers a larger capacity, smaller pore size and more advanced protection from a number of bacteria, viruses, heavy metals and organic chemicals. With such substantial performance at a competitive price, this water filter will attract attention from woods travelers across the country.
For more information visit www.RenovoWater.com.
---
SOLAR FIRE STARTER LIGHTER AND SURVIVAL TOOL
This is a compact stainless steel parabolic mirror designed to harness the power of the Sun by focusing the radiant energy to a precise focal point to start a fire! It can also work as a signal reflector for survival situations.
Proudly made in the USA, this solar-powered tool will never need refueling, requires no maintenance and can be stored easily in any pack. It is perfect for backpacking, boating, hiking and fishing. Unlike matches, which are rendered useless in wet or windy conditions, the Solar
Fire Starter works in any season or weather conditions, so long as there is a direct sunlight source.
Just take a small piece of tinder (practice tinder provided) and fit it to the fork attached to a hinge on the middle of the lighter. The fork is designed to hold the wood at the hottest point where the sun will be directed. Next, point the lighter directly at the sun until the focal point is at the center of the fork and the tinder will start to smoke. Producing a flame may take some practice, but best results occur around noon, when the sun is highest in the sky. When the tinder flames up, use it to start a campfire by placing in a bed of dry, small twigs, sticks, or other fuel source ready to go before you start.
Here's an innovative product that could provide an important fire source. It also makes a fantastic educational tool for students and children to show them the power of solar energy. This is a low cost product that many will find fascinating!
For more information, visit www.SundanceSolar.com.
---
IONOSPHERE BY SNUGPAK
Here's a spacious and compact one-person modular tent by Snugpak, distributed in North and South America by ProForce Equipment, Inc. This tent has a very low profile with a fixed ground sheet, mosquito net, 5000mm waterproof polyurethane coating. It is great for those looking for a one-person tent to keep out of the elements.
A very impressive small compact tent by anyone's standard, the Ionosphere only weighs 2.64 lbs with a pack weight of 3.34 lbs and size of 17" long by 5.25″ in diameter. The Ionosphere is also fire retardant, has a single entry point, comes with 50D polyester No-See-Um-Mesh and all seams are seam-taped. Best of all, it is fully weather-resistant keeping you dry heavy rain and snow. Setting up and taking down this lightweight tent is quick and easy, with a surprising amount of room that contours to your body as you lay down, even with a trail pack or backpack next to you.
Snugpak's Tactical Shelter lineup of high performing tents is engineered and designed with top of the line features, components and materials. What's really unique about these tents is the Fly-First pitch design. With the idea that bad weather can strike anytime and anywhere, Snugpak opted implement a Fly-First pitch type for users to quickly erect and pitch the fly and get inside with their gear in a pinch until the weather passes.
For more info, visit www.ProforceEquipment.com.
---
FOX OUTDOOR BUTT STOCK HOSTER
Hunting season is around the corner! The perfect weapon accessory is the Fox Tactical™ Butt Stock Cheek Rest! Available for shotgun or rifle, this non-slip, padded cheek rest comes with two hook & loop attached strips with elastic loops to secure shells or bullets (depending on model). The straps help keep the cheek rest nice and secure while on the move, aiming or firing.
This cheek rest also has a small, convenient utility pouch with zipper for further storage. What makes this cheek rest incredibly convenient is the ability to quick-reload, since the rounds are right on the rifle, instead of fishing around for rounds on your vest, in your pockets or in your trail bag. This way, you are always prepared for that perfect opportunity.
Available in left or right hand versions, this perfect hunting accessory is now available in safety orange! Fox Outdoor Products™ offers a brand new line of safety orange gear that was built for the survival, medical and hunting trade. From bags, packs, weapon cases to accessories, Fox has over a dozen items now available in this new color. This product is also available in olive drab, black, foliage and coyote. It is sized at 8" long by 4.5" tall and weighs in at only .3 lbs. Best of all, it is competitively-priced at a low, affordable cost. The quality is superior to the fabric you'll find on pricier hunting and tactical gear. For outdoor and military surplus retailers, low-cost items like this one represent a great opportunity to gain more revenue in the competitive hunting sales season.
For more information, please visit www.FoxOutdoor.com.
---
CAMP CHEF SINGLE SQUARE COOKING IRON
Get the full camping experience with this fun and easy way to cook a variety of meals over a campfire or burner without hassle or mess. This heavy duty seasoned cast iron cooking square comes ready right from the moment you leave the store. The 4.5" x 4.5" x 2" iron cooker flips open and closes from the tip of the iron and clamps together by squeezing the two 24" coated wooden handles. The extended handles make it safe to hold over the fire from a distance. The design allows for even heat distribution and the ability to flip the food with a twist of the wrist, rather than flipping food in a traditional cooking pan.
Cook over an open flame for a short period of time and you'll have warm, delicious sandwiches without the bulk of electronic appliances. As an added bonus, the inside of the cardboard packing tag that comes with the cooker provides about 3-4 simple recipes to try out, specifically for this square cooker.
We recommend trying this cooker out over a small fire in your back yard. This way, you'll have a good idea of how long to cook your food and what ingredients to bring on your expedition into the great outdoors.
The Camp Chef Single Square Cooking Iron can make an excellent supplemental product for outdoor and camping sections of Army Navy Surplus stores. They are low-cost and when placed with related camping items, the cooking irons stand out with their unique design and possibilities for outdoor cooking. They have a cool factor that draws attention when walking through aisles of tents and backpacks.
For more information, visit www.CampChef.com.
---
HAYES TOOLING & PLASTICS CAMPING FOOD TRAYS AND CUPS
Hayes Tooling & Plastics has been a respected name in the Army Navy military surplus industry for over 60 years, successfully meeting U.S. government high quality standards. Their line of cookware, canteens, containers, flatware and other cooking and dining accessories offers anything you need for preparing and enjoying meals in the wilderness. Hayes products are created using a specialized manufacturing process that creates strong, durable, plastic products that are lightweight and perfect for any camping trip.
These lunch trays are very useful for camping in areas without public seating or recreation tables, and serve as a convenient way to keep your food clean and organized while you eat. They are sturdy and strong, while very resistant to weather elements like rain and dirt. The cleaning process is very simple too. The high-quality plastic has a glossy coat that repels food and keeps sticky food residue off.
Available in various colors (black, coyote, olive drab), the trays also can come with several small serving cups and containers. The package we tested had two versions of the small, stackable cups: one with a small handle and one without. They proved to be very useful for soup and drinks without taking up much room in trail packs and backpacks.
For more information, visit www.HayesToolingAndPlastics.net.