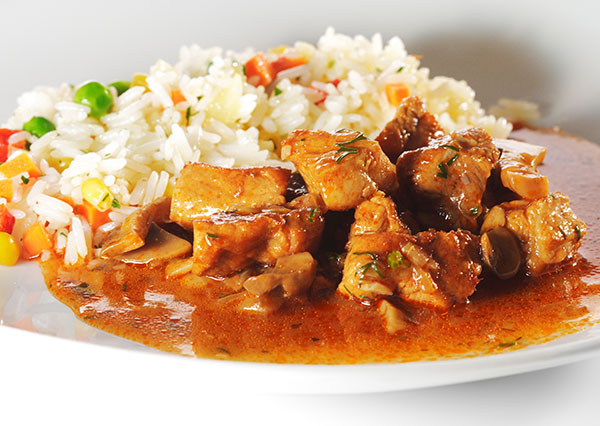 Hot Spicy Beef or Pork Bites with Corn and Rice
By Deborah Gantos
This recipe was submitted by Judy Adams, who is well-known around David Castlegrant & Associates for her love of very hot, spicy foods. She brought in a pot of venison chili to work one day and my tongue was numb for two days! If you are like me and not as adventurous, you can substitute the hot peppers for less spicy ones.
Judy says: "This recipe serves from 8-10 depending on the number of side dishes This recipe comes with the following warning: Do not get the pepper juices in your eyes (wear rubber gloves) while cutting & ensure that anyone you serve understands this is VERY HOT! I suggest having them sign a release of claim form before they eat!"
Items Needed:
5 lbs. of beef or pork (boneless)
1 – C. Worcestershire sauce
5 – Habanero chili peppers (200,000 – 300, 000 SHU*)
5 – Jalapeno peppers (200,000 – 300,000 SHU)
3 – Serrano peppers (25,000 SHU)
2 – Medium-sized white or yellow onions
2 – T. minced garlic
2 – 4 T. olive oil
1 – 2 Bottles of Sweet Baby Rays Raspberry Chipotle or Honey BBQ
*WHAT IS SHU?
A gentleman named Wilbur Scoville developed a heat index for chiles, which is the industry standard for measuring a pepper's pain to your palette. For instance, green bell peppers have a value of zero Scoville units, whereas habaneros are rated as between 200,000 and 300,000.
Step 1
Cut your meat into 1" x 2" bite-sized pieces (or personal preference). Mix 1 T. garlic with 1 cup Worcestershire sauce and add all the bite-sized pieces of meat (you can add more Worcestershire sauce if needed) and store in refrigerator 4-24 hours. This is the marinade and will make the meat very tender.
Step 2
Prepare your campfire so the coals are white and very hot.
Step 3
Using plastic gloves, chop all your peppers and onions into small pieces and combine ALL in skillet with 2-4 tablespoons of olive oil (just enough to cover bottom of the pan). I prefer a cast iron skillet, but you can use any type. Cook peppers and onion until soft or just starting to turn golden brown. Pour in 1 bottle of BBQ sauce into peppers and onions and simmer for 30 min­utes to an hour (longer simmer – stronger flavor). Add second bottle of BBQ sauce as needed to accommodate the amount of meat being used.
Step 4 (Near the end of your sauce simmer time – Less than 10 minutes):
In another skillet with 2 tsp. of olive oil, sear the meat quickly on each side to seal in the flavor.
Using gloves, dip each piece into the pepper sauce and place on kebab sticks. When all pieces are seared and dipped – cook over open fire, turning frequently, for approximately 4 minutes each side (do not overcook). Repeat the dipping process, with meat on skewers, or use a basting brush to apply second coating of sauce. Continue cooking for another 4 minutes.
Meat is done when it is cooked to your preferred taste (rare, medium-rare or well-done). Remove meat from skewers. Let cool for 5 minutes then eat and enjoy!
SIDE DISHES
Items Needed
3 – Boxes of rice in boilable bags
Seasonings for rice such as onion, garlic powder, salt, pepper or Italian seasoning
1-2 ears of corn per person
Rice in Boil Bags
Heat hot water and insert instant boil bags of rice. Follow the directions on the box and season with spices such as garlic, onion powder, salt, pepper, Italian seasoning, etc.
Corn on the Cob
Peel back corn husks and remove silk. Place 1 tablespoon butter, salt and pepper on each piece of corn. Close husks. Wrap each ear of corn tightly in aluminum foil and put on grill. Cook about 30 minutes, turning occasionally until tender. Remove husks and season to taste. Serve kebabs, rice and corn then enjoy!
Remember, everything tastes better in the outdoors!