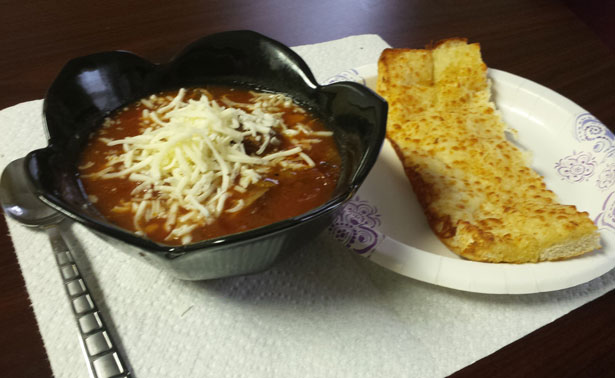 Crockpot Pizza Soup & Cheesy Breadsticks
CROCKPOT PIZZA SOUP
[Editor's note:  January is often the coldest month of the year, so a good, filling soup really satisfies our hibernating bodies on a cold winter's day. Some people still camp in the winter, so I wanted to have a recipe campers could cook by plugging a crock pot into the campsite outlet. To test the recipe, I made a double batch to serve very hungry guys! The soup was served with fresh, cheese laden, Italian bread. There were no leftovers! If you do not have a crockpot, use more liquid. Simmer until tender, about one hour.]
Ingredients
2 (14-oz.) cans Italian style sliced or diced tomatoes
2 c. beef broth
1 onion, sliced
1 small red or green pepper, seeded and sliced
1 c. sliced mushrooms
½ lb. smoked sausage links, thinly sliced or use fresh turkey sausage for a lower fat option. Brown turkey sausage before adding to pot.
1 T. chopped fresh or 1 tsp. dried oregano or Italian seasoning
————————————————————————————————
1 ½ c. cooked corkscrew or other pasta
1 c. shredded mozzarella cheese
Grated Parmesan (optional)
Directions
In crockpot, combine tomatoes, broth, onion, pepper, mushrooms, sausage and oregano (or Italian seasoning). Cover and cook on low 7-8 hours. Add cooked pasta, turn heat to high and cook until pasta is hot.
Spoon into individual bowls and top with cheese(s).
Makes 3-4 servings
CHEESY BREADSTICKS
[Editor's note: I use more liberal amounts of spices and cheese, but I included exact measurements for those who like to use them.]
Ingredients
1 loaf frozen white bread, thawed at room temperature
1 stick of butter, divided in half
1 c. shredded mozzarella cheese (or more)
Grated or powdered Parmesan cheese (optional)
Use any combination of spices: ½ t. garlic powder, 1 t. poppy seeds,
2 t. sesame seeds, ½ t. Italian seasoning, salt (according to taste)
Directions
Using kitchen scissors, cut bread loaf into eight pieces.
Roll each piece to form a long, pencil shaped breadstick.
Cover with a cloth and let rise, until dough is doubled.
Melt half the butter and spread on baking sheet.
Place breadsticks on sheet and brush other half of melted butter onto breadsticks.
Sprinkle desired spices evenly over breadsticks.
Scatter a liberal amount of shredded cheese(s) on top.
Bake at 350 degrees for about 15 minutes, or until browned.
4-8 servings
Enjoy!