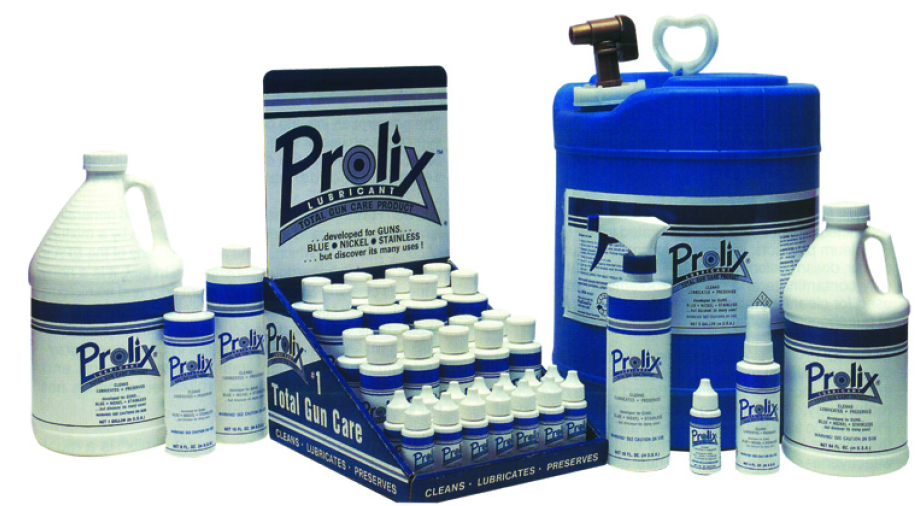 Industry Spotlight: PrOlix Gun Lubricant
Tell us about the history of your company
PrOlix® started in 1972, when Phillip Levy, CEO, joined a Sportsman's Club in Southern California and learned about all the shooting and hunting sports. It soon became apparent that there was no product on the gun cleaning and maintenance market that really worked as it claimed. Phil, a custom cabinetmaker, later trained as an industrial tech with the Department of Defense (DOD) and ended up at the Long Beach Naval Shipyard's Wood Patternmakers shop, working with their Foundry and Machine Shop. During all this time, Phil was also involved with auto racing, motorcycles and off road adventures.
Around 1980, while getting treatment for a spine injury he had sustained in 1967, Phil had time to work on a firearm cleaning and lubricating formula. Also around this time, his friend, Don, asked if he would be interested in helping at the first-of-its-kind Law Enforcement Expo at the Pasadena Police Academy. Phil and Don would be able to display law enforcement and military products, and there would be live practice and demonstrations. Don also would be representing a line of pyrotechnics and the McMillan line of tactical weapons.
After the first five days of demonstrations, numerous LE and military stopped by their tables and expressed long-time firearm cleaning and maintenance issues. During the demonstrations, all of the weapons became disabled and the demonstrations had to end for the day, or so they thought. Phil informed them that he had a product that might save the day, if they would like to try it, and of course they said yes! After using the product, the armorers were all amazed and wanted more.
A team was formed, and over the next few years the Academy and the Marines EOD unit at Camp Pendleton, California, were supplied with the product, while production was set up. After final approval was received in 1985, PrOlix® was born and marketed in 1986, and the rest is history. On July 1, 2016, PrOlix® celebrated its 30th Anniversary!
What sort of products do you offer?
PrOlix TGC (Total Gun Care) Products only offers two products; that's all that is really needed. PrOlix TGC comes in containers from 1 oz. to a small tanker truck, but the most popular sizes are 4 oz., 8 oz., 16 oz., 64 oz. (1/2 gallon), 1-gallon and a 5-gallon bulk drum with a faucet. The second product in our lineup is our PrOlix Xtra-T™ LUBE, which was developed for the military, since back then all their equipment needed a better replacement for a gun oil or grease.
What are your best sellers?
All current sizes have been maintained over the years and they all sell equally well. In fact, it was due to an overwhelming demand by Glock Armorers that we added the 64 oz. jug for schools and training classes.
What makes your company unique?
At PrOlix® Lubricants, we are all active in the shooting sports, and if we could find a better product to use in the maintenance of our equipment we would use it. To date, there is no product on the market that works like our PrOlix, period, and we guarantee it! In 1995, it became the first earth-friendly, ozone-safe product on the market. In 2012, the USDA (United States Department of Agriculture), after years of working with a leading university in the agriculture field, set up an online catalog. PrOlix was the first in its field to be listed as one of their "Bio-Preferred Products"; they call us the Grandfathers of Bio-Technology! Best of all PrOlix is a totally made-in-the-U.S.A. process and product, and we're proud to stay that way!
What can you tell us about the people who purchase your products?
At PrOlix Lubricant, our customers at all levels of marketing become family and are what make up our PrOlix team! They were all frustrated with the task of cleaning and protecting their equipment, and fed up with all the products that didn't live up to the manufacturers' claims. Then they found PrOlix and become enlightened and amazed; they won't use anything else!

Is your business a family-owned business?
It started out as a corporation in 1986, but as the years have come and gone, it was finally taken over by the product's creator in 2006, and it is now a totally family-owned business.
What advice might you give to small or family-owned businesses?
PrOlix has always respected and valued all customers and employees, and has worked as a team to provide the best product and service that is required in today's markets. Any suggestions are discussed at our weekly meetings. At PrOlix, we know that we can't do it all by ourselves!
Do you use any sort of online resources, such as social media and e-commerce?
Yes, we are trying them all and have e-commerce built into our web cart! In fact, we were on the Internet when only law enforcement and military knew what it was. We turned our website over to our first rep/distributor in New England, who was also in law enforcement. The website did him more good at that time, since none of the other manufacturers were using the web. When it started to
get more active, we developed our current website, which just keeps getting better all the time and we try to keep it simple and easy to use!
Would you recommend to surplus and outdoor stores do to take advantage of this medium?
Absolutely, since it is the way of the present and future! It opens up a far greater market and, in these times, we need all the help we can get. We just hate it when we contact one of our newest dealers or their customers contact us to let us know the store has closed.

What features of Surplus Today do you find enjoyable or useful?
Surplus Today seems to be the only publication that goes that extra step to provide beneficial information. They are concerned that their dealer network gets a platform for suppliers and manufacturers to have direct contact with their retailers to share what's going on in the marketplace. Surplus Today helps in any way possible to keep us all in business.
Is there anything else you would like to add?
PrOlix Lubricant was not welcomed into the industry beginning on day one, so we understand the importance of "grass-roots" marketing. Although we have an active direct market with the gunners and our sport, we could not handle the flood of customers all by ourselves. We are thrilled to have dealers worldwide, so we can forward customer inquiries to a PrOlix dealer in their neighborhood. We look forward to hearing from all dealers so that they can experience what all those who have joined our dealer team say: we are the easiest and fastest manufacturer they ever met! Give us a try; let our 30th year be your lucky year, too!
[Editor's note: Thank you Phil for providing this interview.]
PrOlix Lubricants
P.O. Box 1466 West Jordan, UT 84084-8466
800.248.LUBE (5823)
prolix@prolixlubricant.com
www.prolixlubricant.com