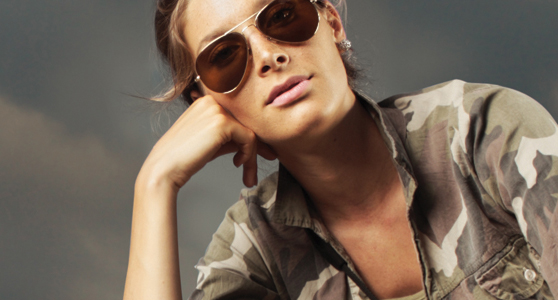 Marketing to Women in Surplus Stores
By Kiernan Manion with John Ottaviano & Eileen Flanagan of Rothco
Small businesses from a number of industries know the importance of reaching every possible demographic and attracting them to their stores and the products they carry. For Army Navy surplus stores, it's easy to fall into the trap of overlooking the more widespread customer bases when marketing and selling their products. One specific marketing audience that should always be considered in advertising, inventory selection, and marketing strategies for the Military Surplus industry is women.
Often overlooked as an minimal market for outdoor, tactical, and other "rugged" product lines, it's crucial to remember that many women hunt, fish, hike, camp, and shoot with the best of them, so it's a poor business decision to leave out a demo­graphic that potentially makes up a significant sales margin. Wives, girlfriends, spouses, mothers, sisters, grandmothers, daughters, and other female family members and friends all have a place in the surplus customer pool.
I had the pleasure of speaking with John Ottaviano, Director of Sales & Marketing at Rothco, America's largest supplier of Military & Outdoor clothing and gear, and with the input of Rothco Sales Manager Eileen Flanagan, offered some very relevant advice on including women in the surplus industry's marketplace, from specific products geared towards women to understanding the demographic as a whole.
ST: Which products are women usually most interested in purchasing at surplus stores and in related industries?
JO: I think there's a danger in oversimplifying shoppers by gender. I think age influences greatly what a woman might buy. For younger consumers, they might like smaller bags and camouflage material to be used as T-shirts, pocketbooks and even other camo clothing specifically designed for women, such as Rothco's Vintage Paratrooper Fatigues for women.
Many fashion-oriented young women shopping in surplus stores are looking for DIY products – items that look vintage that they can add additional personal touches, like trim or beading. This is a phenomenal video of two young fashionistas shopping in the Surplus Store in LA. You could learn a lot about young women shopping by watching these videos, HERE and HERE. These videos feature extreme amounts of Rothco product.
Camo and military are hotter than they've ever been, so girls are wearing everything from military-inspired clothing to genuine surplus for fashion. This is a great opportunity for dealers to move out smaller sizes of surplus clothing. Even smaller sizes of combat boots are popular with these shoppers. On the other hand, working women, especially those in public safety jobs like law enforcement or EMT will gravitate toward things like Rothco's Women's EMT Pants. Again, women aren't just looking for smaller men's clothing, especially for clothes they'll be working in. They want products specifically designed to fit women.
One product area that has done especially well for us are our pink camouflage items. Women love these for a cool camo vibe with a feminine touch. We offer five varieties of pink camouflage in everything from booty shorts, tank tops, tees, pants, shorts and hats. Pink camo is also a top seller for breast cancer awareness products, too and do particularly well in May and October, both big months for breast cancer awareness. Rothco offers dozens of such items, seen HERE.
ST: How is marketing to women different than marketing to the general public?
JO: Well, the last I checked, women comprised 50% of the general public. We do find, however, in regards to digital marketing, women are more responsive on platforms like Pinterest and Facebook while men respond well to Twitter and Instagram. Both genders are very responsive to email marketing, especially coupons and specials. Word of mouth and blogs carry tremendous weight with women, so getting "influencers," people likely to share their experience one-on-one or via social media, can be very effective in marketing to women.
If you are looking to market to moms, the best way to do this is to entice their kids into the store. Joe's Army Navy in Michigan and Woodville Surplus in Ohio both have very successful "Scout Nights" in their stores which tend to attract parents, too. This is an excellent way to introduce women to your store. Women also like crafts and working with paracord is one of the hottest DIY items around. If you can attract them into your store to buy paracord and accessories, there's a great chance they'll seek out the rest of your offerings.
ST: What are the typical buying attitudes of women in surplus stores? What are they looking for outside of something to buy?
JO: For brick and mortar dealers, more important than mar­keting to women is merchandising to women. Women tend to have far less patience for the rummaging required in old school Army Navy stores. Merchandise should be easy to find by style and size, clearly marked and aisles should be well-lit and easy to navigate. Use of mannequins can give a visual reinforcement and are a great opportunity to mix both sur­plus and new items.
ST: Is the Support our Troops movement a popular product line for wives and family members of those deployed?
JO: Yes and a store's geography makes all the difference here. Being near a military base and carrying products specifically geared to the local military branch can be very successful. At this point, standard military pride items are more in vogue than the "support our troops" products of the last decade.
A lot of the pride merchandise has evolved with our society over the years. For instance, Rothco's "Booty Camp" line, fea­turing booty shorts and tank tops in various camo patterns and military branches, has been very successful. It sells well to women and also sells well as a gift item for military person­nel to give their wives and girlfriends.
ST: Do woman soldiers shop at Surplus Stores a lot? If they do, what do they buy how is a different experience or not?
JO: Female military personnel are no different than their male counterparts. They want gear that works, lasts and fits well.
Therefore, they will tend to look for items that fit them properly. Soldiers, Marines, Seawomen and Airwomen are all excellent customers for the army navy store.
ST: Do you have any other suggestions or thoughts on this topic of buying trends and marketing strategies women that surplus stores and small businesses can utilize?
JO: People who shop in Army Navy stores tend to be a slightly different breed, whether they are male or female. They tend to favor merchandise that is a bit more extreme than those in your average store, whether it is clothing or gear.
Therefore, retailers need to be a little more adventurous to succeed, whether it means carrying booty shorts, or t-shirts with daring prints or survival merchandise for the hardcore prepper who can be male or female. Women make up over 50% of our population.
If you sell only to males, you are missing a tremendous revenue opportunity. Other items to consider would be sweatshirts, boots, weapons for self-defense like knives and pepper spray.
Some important things to consider when marketing to women are: where the store is located, treating women with respect and making them feel comfortable and welcome.
So there you have it, some great insight into a large demographic for any industry, particularly military surplus. Always make sure to utilize a good selection of products that can be sold to women, as they are an extremely viable buyer audience.
Surplus Today would like to extend a huge thank you to Rothco's John Ottaviano and Eileen Flanagan for their expertise, thoughts and time in assistance with this article.
For more Rothco products and marketing ideas for your surplus inventory, be sure to check out their website at www.Rothco.com.