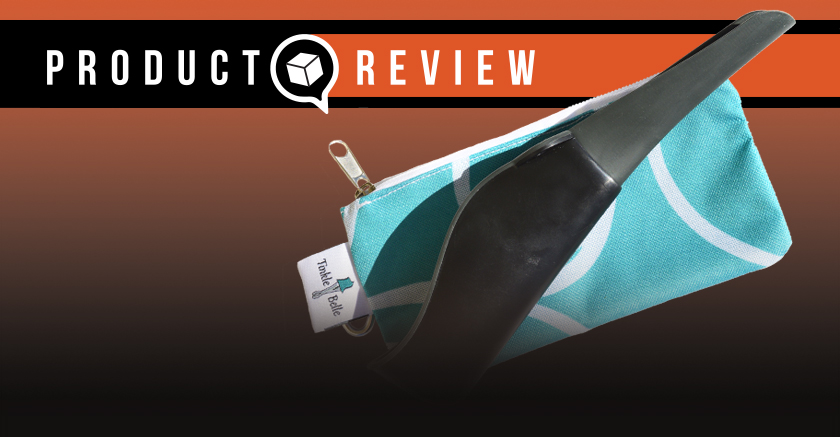 Product Review: The Tinkle Belle
By Jamie Wright
I will be honest, I was originally very apprehensive to review this product. The Tinkle Belle is a female urination device designed to allow women to stand and relieve themselves without disrobing. Now, while I know this subject is not going to be everyone's favorite, it really has been a setback for myself and many other women who enjoy the outdoors. I have never enjoyed our current plight of outdoor urination. I am sure I don't have to get into the details, but it isn't pretty or comfortable, not to mention private. After contemplating past, fairly embarrassing, scenarios I resolved to put aside my unease and give this product a try. I decided to first read up on this product and many other stand-to-pee devices currently on the market. Not only did I become more comfortable with the subject, but it seemed clear that The Tinkle Belle was a superior choice to its competitors.
While other devices seemed small and flimsy, The Tinkle Belle is the perfect size and is quite durable. Many of the complaints I viewed on similar items mention that they were too shallow, too narrow or too short, ending in a disastrous situation. However, The Tinkle Belle is shaped completely differently. This device is engineered with a durable hard shell that is anatomically shaped to fit the female form, which catches urine and funnels it away from the body. The Tinkle Belle is specifically designed to be easy to hold, reduce splashing and provide less risk of overflow. The Tinkle Belle comes with an easy to read and follow insert that also gives you some good tips for your first try. Although it is quite easy to use, it is recommended that you try it first in the shower to get a feel for it so there are not any accidents when you go live.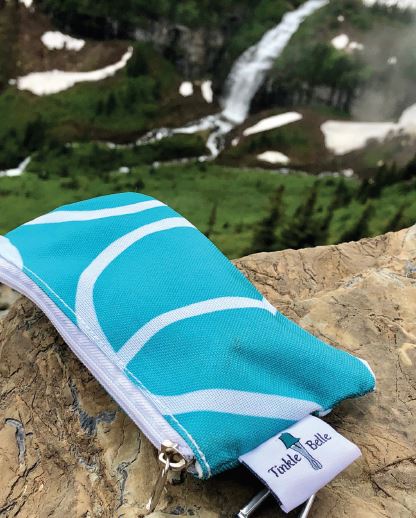 I am always looking to pack less when it comes to backpacking, so new items need to either be worth their weight or exchangeable for another item I am carrying. The Tinkle Belle meets both requirements: it is compact, and it is designed to act like a squeegee so you can go without using toilet paper or, worse, the foreboding leaf. I was a little on the skeptical side on this one, but it actually worked. I was left nice and dry and, above all, comfortable with the help of the soft, flexible lip. So for those who believe in leaving no trace (this should be all outdoors men and women), this is an alternative to packing out your used toilet paper.
Moving on, let's talk about the clean up and compactness. One of my first questions was, "How do you clean it on the trail?" Well, it is pretty simple. The material is actually hydrophobic, meaning it repels water making it harder for droplets to stay inside the device. So when you are finished, you just shake it out. Now, I know what you are thinking: "Really? I just shake it to clean it?" But yes, that's it. The material used is antimicrobial, meaning it kills microorganisms including bacteria, viruses, protozoans and fungi. Plus, the handy carrying case has a waterproof liner and is machine washable. Did I mention the device is also dishwasher safe?! You can clean everything thoroughly once you come down from the mountain and out of the woods. On top of all of that, it folds to a compact size fitting into the portable carrying case that also comes with a carabiner. So it is easy to find, conveniently clips to your bag and is reusable.
Anyone who knows me knows I am a bleeding heart. I love people and, no matter who you are or what walk of life you are in, I probably would love you, too. With that being said, I was pleased to learn that The Tinkle Belle is partnered with the God Forgives Foundation. A portion of The Tinkle Belle's sales go to support this non-denominational foundation in opening and maintaining orphanages around the world. Many of these orphans lost their parents to HIV/AIDs and would end up abused or forced into sex-trafficking. No matter your religious views, your political affiliation or life background, giving children an opportunity at life is vitally important.
Now, I know I have been reviewing this from a backpacker's perspective because that's what I know, but The Tinkle Belle can be used for a plethora of situations: camping, hunting, boating, road trips, outdoor festivals, dirty public toilets or outhouses or by someone who may be injured or disabled, just to name a few. The subject at hand may not be the most comfortable topic, but let's face it, everyone must pee and it shouldn't be so challenging. Whatever the case may be, it is great to know that, as women, we have options and we shouldn't ever be embarrassed about it.
To get more information on The Tinkle Belle, you can visit them on the web at www.thetinklebelle.com.