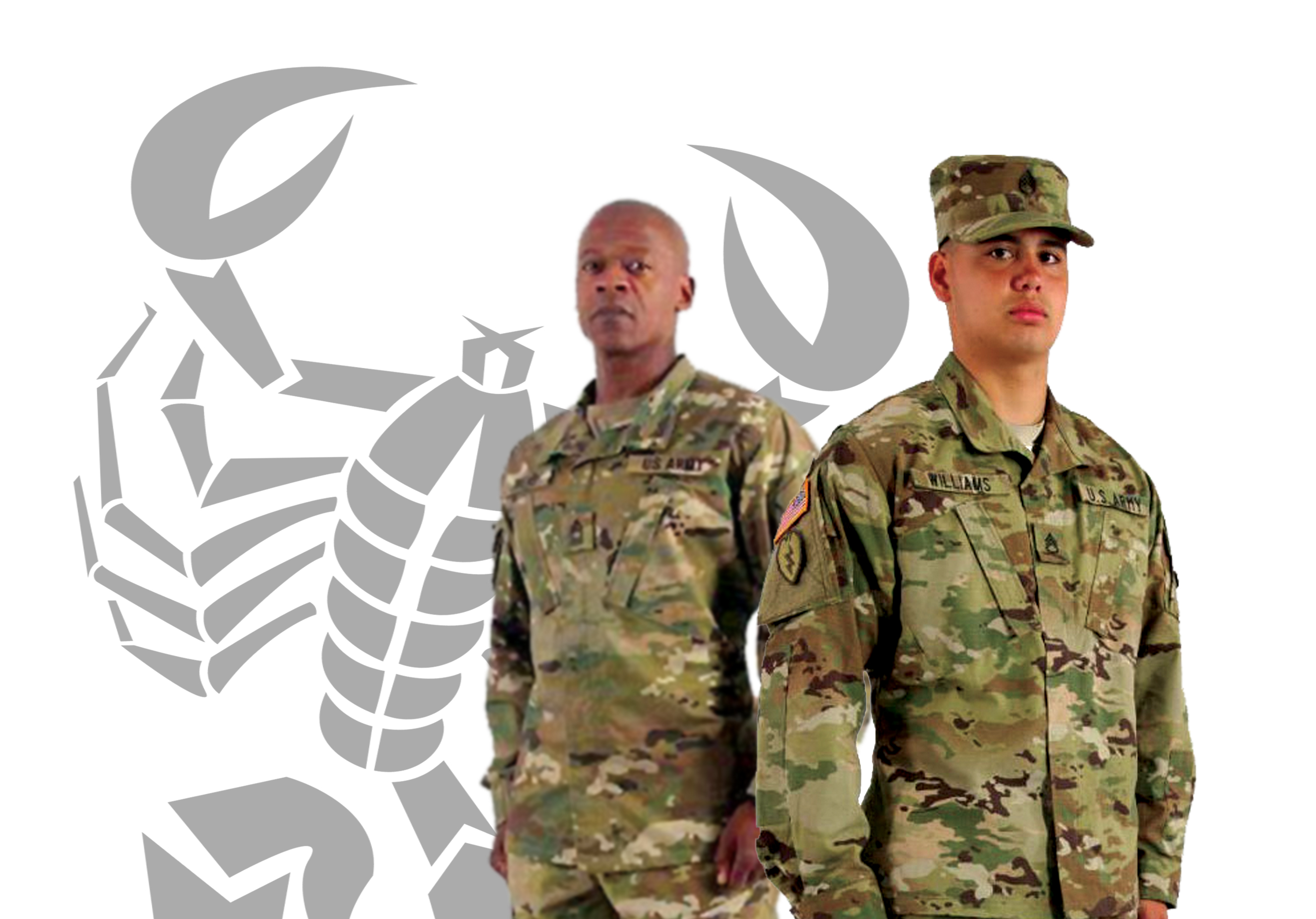 Your store and the Army Scorpion W2 Uniforms
By Diane Crosby
In the beginning of camouflage, mud, and homemade paint designs blended soldiers into their environments. During World War I, camo troops, called camofleurs, helped design patterns to keep trench soldiers safe. War marched on, and camouflage flourished. Early U.S. Marines had their frog pattern. In the 1950s, the leaf and twig came into use. Then there were Tigerstripe, Woodland, a pattern known as "chocolate chip," and MultiCam. Rolling out in 2015-16 is the latest camo incarnation. Originally called Scorpion W2, the military calls it OCP or Operational Camouflage Pattern.
The 2014 National Defense Authorization Act (DNAA) requires the Defense of Department (DOD) to adopt a pattern of camouflage to be utilized by all its military branches. July 2015, was the initial rollout of the new OCP with three rollout phases planned. Mandatory conversion to the new pattern is Fall 2019. Many industry insiders, while expressing some doubt in the AAFES' (Army and Air Force Exchange Service) ability to handle distribution, believe the 2019 deadline for transition to the new uniforms will be met.
At first glance, OCP may look very similar to MultiCam. OCP has fewer slugs in the pattern, slugs being the smaller brown elements. Close observation of the new pattern may reveal somewhat less black and some shading differences. Lighter versions of desert climates and darker ones for jungles and woods may be added later. Depending on the swatch, it can be tough to tell the difference between Multicam and the new Scorpion OCP, and there has been some litigation from designer Crye Precision, the company that owns the MultiCam design and designed the Scorpion W2 under military contract.


With the phasing in of OCP, tactical, outdoor, and surplus store owners are anxious to find out when the new pattern will be available for stock. That is a question more easily asked than answered. Until all official military dealers are fully stocked, other dealers will simply have to wait for a process that may take more than two years.
Propper is one of the manufacturers actively involved in the supply chain of OCP uniforms in its government contract division utilizing fabric printed at domestic mills licensed to print the new pattern. For uniforms to be made available for general retail sale, commercial licenses to print the fabric will need to be granted to the printing mills, explained Joe Ruggeri, Senior Vice President of Merchandising and Product Development at Propper. "At this point, we have not seen a final timeline on when (or if) these licenses will be granted; unfortunately, we're waiting to see the answer to this question as well," Ruggeri added.
While waiting, though, a retailer can do a lot. The accessories and other non-camo parts of the OCP uniform can be stocked in a "Scorpion W2" or OCP section of the store. According to the specifications on the website of U.S. Patriot Tactical (a retail store that contracts with the military to sell uniforms), currently, soldiers should choose coyote color boots, belts, undershirts and gear when wearing the new uniforms, while sand and coyote are acceptable for use with MultiCam. All will transition to coyote by Fall 2019 when MultiCam is scheduled to be phased out. The exact color for the boots and elements aside from tees is Coyote 498. Tee shirts will be Tan 499.
According to an Army Press Release, soldiers can mix and match t-shirts, belts, and boots from the Operation Enduring Freedom Camo and the new OCP until the transition takes place.
During the 2016 ANME and Shot Show, Rothco heard plenty of buzz around its coyote boots, belts, and tees. In an e-mail following the show, those Scorpion-compatible products were listed as the "most talked about."
When creating a store display for Scorpion W2/OCP related products, be sure to focus on the correct coyote color. Fortunately, there should be plenty of coyote gear – pouches, molle, and bags of various types — on the market. Coyote has been produced for some time and has become increasingly popular for its ability to disguise dirt. Of course, when selling to the public rather than the military, the phased-out colors may provide bargains for those hunting them. Non-deployed soldiers will wear full-color U.S. flags while those deployed or in the field will utilize subdued versions. These can be added to the display as well.

It is always somewhat frustrating for individual store owners to watch from the sidelines as a multi-billion dollar business, such as a new camo rollout, occurs. Who wouldn't want to be on the receiving end of all those clothing allowance dollars? Those stores under contract with the military, as well as the military clothing sales stores on base, have priority. New soldiers were to have begun receiving the new uniforms in January 2016. Some speculate that members of the National Guard and reservists will be among the last to get the new uniforms. After the first three waves of distribution, regular retail contracts will occur only when Department of Defense needs have been met. However, there is opportunity ahead. Eventually, the new OCP should be available to individual stores. ACP and MultiCam clothing will become official designs of the past. That means closeouts may be on the horizon. For those surplus and tactical stores selling primarily to the public, bargains may be available as suppliers rid themselves of old stock.
As with any new camo pattern, there will undoubtedly be unofficial knock-offs of the new OCP from overseas. While copyrights are enforceable within the United States, tracking down copyright offenders worldwide may be futile. Suppliers, such as Propper, encourage retailers to wait on the real deal.
"When the original ACU was released commercially in the UCP camo print, many companies raced to market with a non-spec uniform," Ruggeri said. "While demand was high, there was a lot of confusion in the market, and soldiers buying outside the supply chain purchased an unauthorized product. We were proud of the fact that we produced an authentic military spec product made of spec fabric and trims at a competitive price, giving these soldiers what they needed."
Most manufacturers, vendors, and even store-owners are reticent to speak officially about government contracts, timetables, and any controversies associated with the new camo. Few feel confident enough to speak on the record about any topic relating to the new Scorpion OCP. Much of what will occur with the new camo may seem like a "wait and see" proposition.
Doing what you can to prepare is prudent. Take advantage of closeouts for public sale as they become available. Stock accessories which are compatible with the new Scorpion W2/OCP. Check online websites and blogs concerning the new pattern for news and information. Change, as always, is inevitable. Make it work for you!
Diane Crosby is a freelance writer and co-owner of a retail public safety store in Georgia.