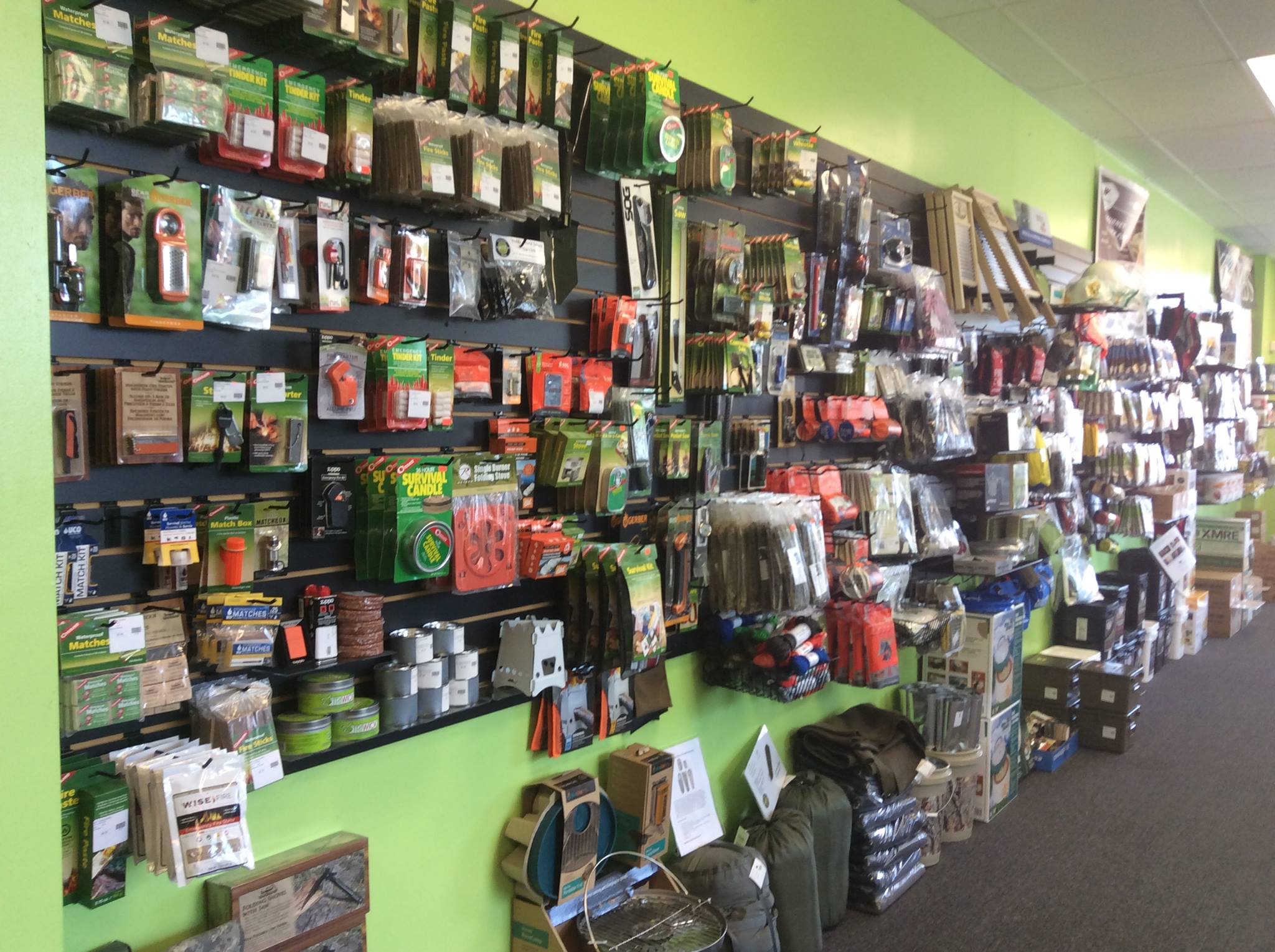 Does Your Store Have a Survival Wall?
By Diane Crosby (pictures courtesy of HTF Survival Store in Anderson, SC)
A military surplus store attracts a wide variety of customers, from the veteran to the outdoorsman to the kid down the street. Who doesn't love browsing the aisles of a great "army-navy" store? There is another very specific group of visitors you may have noticed. Among your regular customers may be those who are seriously interested in survival and the gear that goes with it.
Whether you are attracting survivalist customers already or are interested in doing so, you might consider having a special section of your store that caters to this growing market. Most people, even those without a fully stocked shelter, are interested in survival. The popularity of apocalyptic movies and television shows alone should be a clue to the curiosity that surrounds survival.
If you can utilize a wall, a free-standing display or a corner of your store and fill it with the items you already carry that cross over into the survival gear market, your store can reap the rewards of attending to a growing trend.
Items already stocked
Even if you have not previously considered the survival market, you may be surprised to find you already have plenty in stock to start a special section. Except for a little manpower and some signage, you can join the survival market with minimal start-up investment. Let's think about the items you already carry which can move right into your survival section.
Include all types of lighting, such as flashlights, lanterns, etc. along with their batteries and chargers. A sampling of camping and outdoor cooking gear is good. Display storage boxes. Showcase your MREs (Meals Ready to Eat).
Ropes of varying widths, as well as paracord, are essentials. Other items you may already have in stock that can double up in the survival display are gloves, trauma/first aid kits, knives and their sharpeners, small multi-tools, ammo and gun supplies, holsters and rifle slings, targets, binoculars, scopes, compasses, pepper spray, backpacks, gear bags and pouches.
Adding to your inventory
If you find the idea really takes off, add to your inventory of survival items, and expand the section! If you do not already carry them, consider introducing some survival-specific items such as flint and/or fire-starting kits, larger batteries, small water purifiers/filters, wet wipes, duct tape, zip ties, flares, small tools (such as compact shovels and pick axes), simple fishing gear, how-to books, medical shears, insulation blankets, weather radios, and dry packs. None of these items take up much space and may be available from vendors you already use.
Further expansion could include waterproof storage, survival food packs, generators, multi-tool survival sticks, mosquito netting, walking sticks, and other higher priced and bulky items. However, these require more space and a dedicated survival customer base. Try not to compete with online survival sites which specialize in the field unless you begin to delve deeply into the business.
Next time you visit the rows of displays at shows or conventions, be on the lookout for items which will fit in your survival area. Visit online survival gear websites to see the latest gear, as well as to learn which items are considered in the category.
Special section strategies
When you create any special section in your store, remember not all customers may visit that area. Do not deplete all your flashlight and battery displays by putting them in the survival section. Keep a sampling of what you have in both areas.
The advantage of having a special section, though, can be tremendous. Not only do you attract those who are already very interested in survival, the display itself generates interest. Those who have been pondering collecting survival gear will get ideas from your store and, hopefully, take their first tentative steps into the field by purchasing from you! Folks who just want to be adequately weather-prepared will likely see something they need. Even the curious will take a peek. You want people to look at your new display and realize, "Oh, I never thought about that!"
If you cannot fit in everything you stock that is appropriate for the section, a handout list of other survival items in your store can be hung on the wall.
The most appealing look for such a section would be an area actually set up like a small bunker. If you have the space for it, a "survival cove" would be attention-grabbing.
However, if space is truly a problem, such as in most storefronts, locate the new survival display near an existing compatible area (such as camping, camo, or weapon supplies) to take advantage of a crossover market.
For those who have an online store as well, you can easily group items already on your site into an additional survival gear category. What a quick way to add a new customer base!
Don't forget the signs! Any new section needs to have clear signage to guide customers to the area. Whether you use signs that hang down from the ceiling or arrows or standing signs, help your customers discover your survival spot.
What's in a name?
Be sure to name your section so customers know what they are seeing. Try Survival Center, Survival Wall, Preparedness Station, or whatever clever, but clear title you and your employees can create. This title can do double duty on your website.
Ask questions
New and existing customers may know more than you do about the field of survival. Ask customers what they would like to see in your store. Definitely do not pretend to be an expert in this field if you are not.  Customers are usually flattered to be asked about their opinions and generally have a wealth of information. If you keep hearing the same suggestion again and again, consider it good advice! Learn more about the growing field of survival by searching online, attending a nearby convention, and by listening to what your customers are talking about.
Diane Crosby is a free-lance writer and co-owner of a retail public safety store in Georgia.