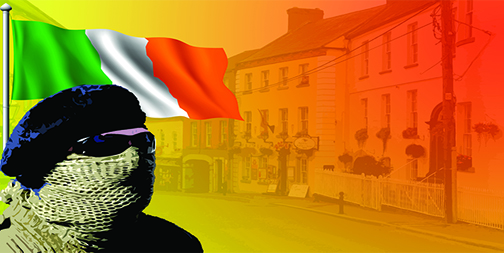 Terrorism: A New Perspective
By Rick Friday
Watching the news about the terrorist attacks in Paris and San Bernardino brought back some bad memories of my tour of duty to England. When someone mentions terrorist activity, England is not the first place that jumps into your mind. However, in the 70s, England was a hotbed of terrorist activity due to the offensive terrorist campaign of the Provisional Irish Republican Army (IRA). In 1969, the IRA split and the Provisional IRA became its radical arm. They were deemed an unlawful terrorist organization in the United Kingdom. In 1971, they began a blatant terrorist campaign against the British that lasted until 2005 and claimed the lives of over 2,000 people and caused the imprisonment of over 10,000 others.
My first overseas assignment was to a small base approximately 60 miles north of London in June of 1974. I was thrilled to be going to England, especially since I had just gotten married and this was going to be an assignment where my wife could come along. We heard things about the IRA on the news but it didn't get much play in the U.S. because the Vietnam War was much more of a media priority. However, about three months before we were scheduled to depart, the threat became very real to me. One of the weapons the IRA was using was letter bombs and they were sending them through the mail to various government offices in England. Like all terrorist activity, they were designed to cause fear and mayhem whenever deployed. The military started sending personnel scheduled to be stationed in England to classes designed to help recognize what these bombs might look like and how to deal with them if encountered. After completion of the training, I had several sleepless nights thinking about having my hands and arms blown off just from opening a piece of mail.
We arrived at our new station and settled in to the life of American service personnel living in another country. The media in England had different priorities on what they were reporting than the American outlets. We heard virtually every day of some sort of clash between the IRA and British troops, primarily in Belfast and Northern Ireland. But we had, over the course of several months, gained what later turned out to be a false sense of security. After all, we were stationed on an American military base and this was a British problem in another country. This could not affect our lives, or so we thought.
Our second wedding anniversary was in August 1975 and we took a trip to London to celebrate. We rode the train from our town to London and caught the tube (subway) to Oxford Street Station. We shopped along Oxford Street and had lunch in one of the pubs. We decided we wanted to go to Piccadilly Circus and took the tube to that station. We no sooner arrived at the Piccadilly station than it came out over the speaker system there had been a bomb explosion on Oxford Street. We later found out it was in the neighborhood we had just visited. We were literally minutes away from being involved in this attack.
In October 1975, we headed back to London. My brother-in-law was coming to London with his college choir to begin a two week concert tour in Europe. This was their first stop and they were going to be in London for three days. Again, we caught the train to London and the tube close to his hotel. We met him at his hotel and headed to the tube station to revisit Piccadilly Circus to see the sights and have supper. We got to the platform and began waiting for our train, which was due in two to three minutes. But the train didn't make it. The IRA had placed a bomb on this particular train and it exploded at the Green Park Station, which just happened to be the station immediately before ours. If the device had waited three to four minutes longer to explode, we would have been right in the middle of it.
Those two instances gave us a new appreciation for what was happening, and made us very wary about traveling to London. It was brought home to us this situation was very real and very dangerous! It had the desired effect the IRA was searching for in it instilled fear and apprehension because you never knew when or where the next device might go off. Fortunately, until recently, our country has experienced very little of this type of terrorism. 9/11 changed that and the shootings in San Bernardino have brought it even closer to home. We are no longer safe from this type of terrorism and I am afraid this activity, which has been so much a part of the rest of the world, will now become a regular part of our lives.
Rick Friday is a Retired Air Force veteran, ordained minister, small business owner, with a master's degree from University of Arkansas.  He is married, with two sons and three grandchildren.