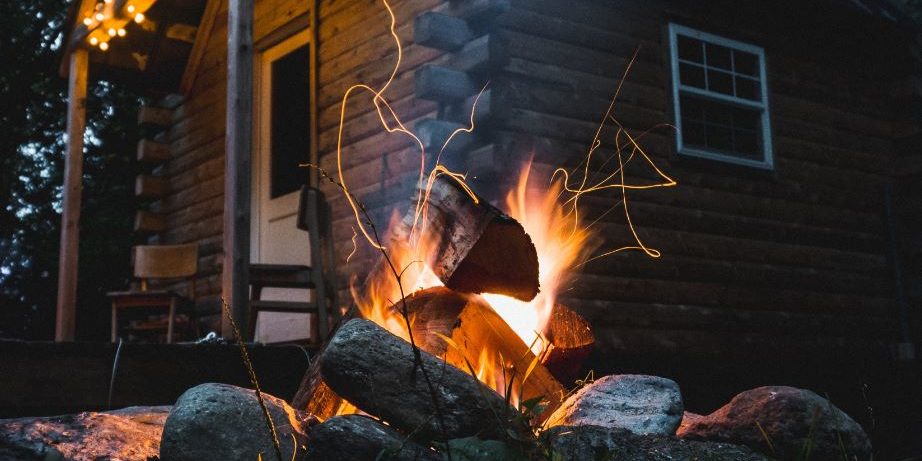 Cabin in the Woods
By Kyle MacNall
Our cabin up north has been a year-round hideaway for my family for the last 20 years. My parents were divorced when I was young, so on weekends with my dad, he would struggle to find fun things for us kids to do that weren't just going to the movies or to dinner. Hunting, fishing and anything outdoors were always a great way to pass the time. For years, he talked about wanting to get a cabin or piece of property up north. When I was 14, he finally bought that cabin in the woods for just $9,000. It was an old, run-down building off a back road. The first night we slept in it, we could hear an animal trying to get through the big hole in the back wall. No water, no heat and a leaky roof. It was perfect!
The cabin was our gateway to year-round activities in the northern Michigan wilderness. In the beginning, it was our hunting cabin. In the fall, my dad, brother and I set out to the woods to find the best tree for our stand. Backing up to thousands of acres of a National Forest, the woods behind our cabin seemed never ending. Twenty years later, they just feel like an extension of our back yard. We know every trail, valley and tree in those woods. We give each other directions like, "turn left at the grouse tree, head over dad's ridge, pass the dump and you will find the bowl." Some of my most favorite Thanksgiving memories are of just my dad, my brother and me eating at the Holiday Inn Thanksgiving buffet in town, because we were up north hunting.
The second year my dad owned the cabin, he bought three old snowmobiles. They were rusty, needed work, had terrible suspension and would break down regularly. They were perfect! The first year, we just shut down the cabin and winterized it for the season. Now we had a reason to head up north in the winter. The snowmobiles helped open all the trails and forest nearby to us. Spots that were too far to walk before, we could get to in minutes.
One machine was considerably larger and more powerful than the other two and my brother and I would always fight over who got to ride it. My dad would always say that machine was too dangerous because of its power and that he was going to get rid of it. His tune changed when one day that power probably saved his life. He had stalled the machine in the middle of a dirt road just over a hill. As he got it started again, a truck came flying over the hill at an incredible speed. My dad hit the gas and that machine lunged forward, with my dad narrowly escaping being run over by the speeding truck. If he had been on one of the slower machines, the outcome may have been different. We rode those machines everywhere. However, with the old suspension on those old snowmobiles, it could be a little while before we could stand up straight after a couple of hours of riding.
The cabin is nearby to three of the top trout fishing streams around, so of course we all had to buy fly fishing rods, vests and gear and head to the streams. I must admit, this is one outdoor activity that we never really mastered. However, every spring and Father's Day weekend, we headed to the cabin to try our hand at catching those big, heavy brown trout everybody kept telling us were in those waters. I have yet to catch anything over ten inches long. However, I must admit there may be nothing more peaceful than standing in a secluded trout stream, listening to the water trickle across my waders and the birds chirp in the air while I tangle my line in the bush behind me.
The possibilities for entertainment in summer were endless. Those trout streams turn into swimming holes and the snowmobile trails opened for hiking, four wheeling and two-tracking. Really, it's just our place to get away from the hustle and bustle of everyday life. In my teenage years and twenties, a large group of friends and I would have our annual tubing trip down the river. We'd have as many as 25-30 tubes tied together, clogging up the river as we drifted down. At the end of the day, there's nothing we enjoyed more than relaxing by a bonfire, looking back on the day's events, telling stories and just talking about life.
Of course, over the years it has not been all play. Somebody had to patch that hole to keep the critters out, not to mention adding the new roof, new well, paint, new heat, etc. For years, my brother and I would say, "Dad, it seems like all you want to do is work when we come up here." The cabin never had running water, so a few years later, he bought the neighbor's cabin, which had running water, and combined the two properties into one. We always joked that he bought a really expensive bathroom. Over the years, we replaced both roofs, remodeled the interiors throughout, upgraded the heating, fixed the plumbing, etc. A few years ago, Dad had some space cleared out and built a large pole barn out back. That little cabin in the woods is now like a small compound and has become my father's year-round home. Now I know why he had us working so hard on the property during those early years.
My father was looking for something to do with his boys on the weekends and found a home. Over the years, those hunting trips, snowmobile rides, remodeling projects and hours by the bonfire brought the three of us closer together than we ever could have imagined. That little cabin in the woods has provided us with countless memories over the years. It is perfect!