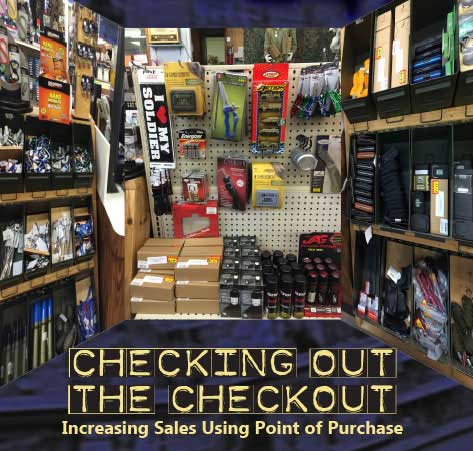 Checking Out the Checkout: Increasing Sales Using Point of Purchase
By: J.D. Williams
As the shopping habits of consumers evolve, brick-and-mortar retail stores are faced with constantly changing options about catering to their needs, while maximizing profitability. Despite all of the change in the shopping landscape, there is still one constant that remains. How the customer behaves at the checkout counter is still a crucial element to the success of a retail store. This part of the shopping process is called the Point of Purchase.
An overwhelming majority of retail items are bought on impulse. There is an average 12-second timeframe between a customer approaching a display and adding the item to their chopping cart, and a two second window to attract his or her attention. It is crucial for you to make the most of your customers' time at the checkout counter. It would do you well to implement a strategy to maximize this aspect, and there are some clear, concise techniques to do just that.
PRESENTATION MATTERS
Signage and displays near the Point of Purchase area are an excellent way to generate interest in a product. When setting up a Point of Purchase display, keep in mind that the first and foremost goal is to get the customers' attention, whether it be with  posters close to the shelves, convenient packaging, special shelves, or marks on the floor. The majority of purchasing decisions are made in store, so you have the opportunity to affect your customers' decision-making process with how you present your products. Consider taking a product you are emphasizing off its normal shelf and presenting it in an endcap or kiosk near the checkout counter. This gives the product prominence above the other similar items in your store, and has the potential to draw more attention.
Be mindful of the eye level of your display. Customers are more likely to devote attention to items placed at eye level, so you'll want to display your product at a level where your average customers will easily see and reach it. There is also a separate eye level for children. Since children can have an effect on their parents' buying behaviors, it would be a smart move to keep products that appeal to children (i.e. candy, games and toys) at a lower eye level, accessible to your younger customers.
Point of Purchase Marketing has become a point of emphasis with manufacturers, so they are more than willing to work with retailers to devise the most optimum checkout displays for their product. Contact the manufacturers of the products you wish to emphasize to see if they have any display options for you.
The wall behind your cashier presents another opportunity for Point of Purchase product placement. Having products available in this area takes advantage of the customer's need to look at the cashier during the transaction. Likewise, the cashier can also be a valuable tool in maximizing Point of Purchase sales. Consider training your cashiers in upsell and product suggestion techniques, perhaps even offering an incentive for certain levels of add-on sales.
CHOOSING PRODUCTS FOR THE CHECKOUT AISLE
It pays to be selective of the products you choose to market at checkout. Customers are more likely to pick up certain items at checkout than others. You want to focus on the types of items a customer would choose to buy within that two-second window of opportunity. These items are usually small and relatively low cost.
Add-on items: Don't underestimate the value of convenience. A customer that just bought a big electronic item would be likely to pick up batteries on the checkout aisle, and a customer that just spent money on fashion and beauty would consider adding a conveniently placed lip balm or fingernail clipper. A Fourth of July fireworks-buyer would certainly be interested in some lighters. Being attentive to the buying habits of your customers and knowing their needs better than they do would pay healthy dividends in this area.
Novelties: small, low-cost items such as toys and keychains pique the curiosity of shoppers and can often lead to added sales. This works especially well in niche stores, where you can tailor the novelty item to match your area of expertise. A store specializing in office supplies would do well to have a bin of unique pencils within arm's reach, while an electronics store can benefit from having a selection of inexpensive flash drives with flashy designs near the checkout aisle. Uniqueness also counts: If you have product that a customer likes but can't find anywhere else, that customer will keep coming back, and may buy other products while in your store.
Package deals: Customers react positively to smaller items that are packaged together, where they feel as if they are truly getting a value for their money. Consider stocking such things as travel-packed toiletries, like the travel-sized toothbrush that comes with a tube of toothpaste.
Snacks: There is a reason why supermarkets devote so much of their checkout space to candy bars and single-size bags of potato chips. One of the quickest ways to generate impulse is with appetites and taste buds. And this can be successfully implemented with more than just junk food and soda. A well-placed fruit basket or water station can generate interest, as well. Even if you are adverse to selling junk food, you can still tantalize taste buds with health-conscious items like trail mix, banana chips, energy bars and other more nutritional options.
While-you-wait items: in heavy shopping times, the lines can get long and lead to tedious waits for checkout. You can maximize this waiting time by having a magazine rack available. Customers can pick a publication up and get engaged in it, and often cannot finish what they are reading before it is their turn at the cash register, which is a good prompt to buy the magazine and finish reading it at home. Be sure your checkout line publications are in tuned with the demographics of your most frequent customers.
Clearance items: the checkout line is a perfect spot to place the inventory that you absolutely have to get rid of. Be sure to have signage promoting the clearance item in a place where customers will notice it.
It is important to keep track of the inventory and sales trends of your checkout area, so it would be wise to invest in Point-of-sale software like Quickbooks Point Of Sale. Software like this allows you to keep track not only of inventory, but also of pricing and the purchasing habits of your customers. Keeping informed of their constantly changing purchasing trends will give you an edge in deciding what your best options are in getting the most out of your Point of Purchase strategy.
Properly utilizing the checkout area of your store should be a vital part of your profitability plan. By tapping into the inherent buying habits of your customers, you can turn the most routine part of the shopping experience into one of your chief sources of profits.