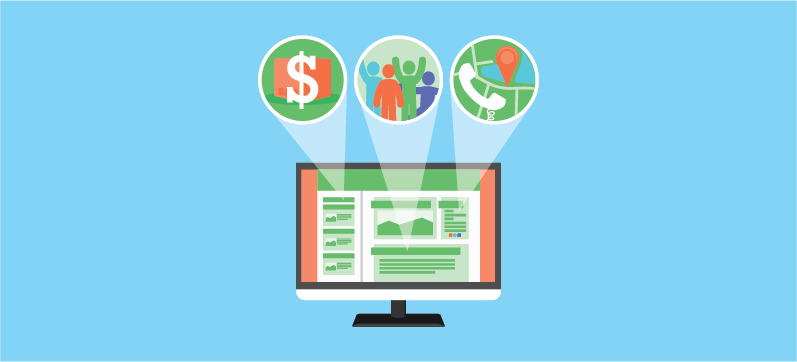 Expand Your Business Online
By Nick Mann
It's impossible to deny the benefits that a website can have for small businesses. Having one allows you to attract leads, educate consumers, build authority, increase foot traffic and so on. But amazingly, Entrepreneur reports that nearly half (46 percent) of U.S. small businesses still didn't have websites in 2016. The most common reasons for not having one include failing to possess the technical skills and a lack of time or money to invest into a website.
Fortunately, constructing your own site doesn't have to be complex or complicated. In fact, it's arguably easier than ever. Here's what you need to keep in mind when expanding your business online, and how to get a website set up.
Keep it simple
For the non-tech savvy, the thought of building a site from scratch can seem overwhelming and even a little intimidating. Maybe you don't know the first thing about coding, web design or copywriting. But don't let that deter you from boosting your brand's presence. You don't need to concern yourself with CSS, HTML or complex content management systems. It's just not necessary.
Having a simple, static website is often more than sufficient for generating qualified leads and bringing in customers to your surplus/survival/tactical store. For the most part, website visitors respond better to simple, less "visually complex" websites anyway. Conversion XL explains, "Less visually complex websites are considered more beautiful because low complexity websites don't require the eyes and brain to physically work as hard to decode, store and process the information."
In other words, visitors can digest the information more easily and find what they're looking for with minimal friction. This means that your site doesn't need a lot of bells and whistles to be effective. It simply needs to provide visitors with key information and answer their questions.
Core components
So what exactly do you need to include on a website? KoMarketing performed a study to determine what types of information were most important to people when visiting a website homepage.
Here's what they found:
86 percent of people wanted to see products and services

64 percent wanted to see contact information

52 percent wanted to see about/company information
These elements should be the crux of your site. Other things like testimonials (27 percent), marketing collateral (23 percent) and a blog (8 percent) are certainly helpful, but aren't mandatory. As long as you're touching on the three key areas mentioned above, you should be in good shape.
Setting up a site
When you really break it all down, setting up your own website requires that you perform three main tasks: registering a domain, choosing a platform and designing your site. Some of the more popular hosting companies include Bluehost, GoDaddy and HostGator. All three are very reliable and often have affordable pricing options that are ideal for small businesses. For instance, a basic, shared hosting plan should be sufficient as long as you're not planning on generating a massive amount of traffic.
You'll simply need to visit a hosting provider's website and choose a plan that suits your needs. Then you'll select a relevant domain based on your business name and register it. The process is fairly straightforward, but a company representative can help walk you through it if you have any questions.
From there, you'll need to choose a platform for constructing your site. Perhaps the most popular option is WordPress because it's incredibly user-friendly and allows you to create a professional looking website with zero coding knowledge. There's a very small learning curve, and it's highly recommended if you're a beginner. A couple of other options worth considering include Wix and Weebly.
When it comes to designing your site, you'll first need to choose an attractive theme/template that ties in with your brand. You'll usually want to stick with one that's simple because this should make for a more seamless design experience, and it won't overwhelm your visitors with extraneous information.
Be sure to include information on your products/services, contact info and about/company. This should be the focal point of your website and will serve as the nucleus. The easiest way to incorporate this information is to add a menu at the top of your site where visitors can quickly click on individual pages to find what they're looking for. Also, make sure to include at least a few professional-looking images to appeal to your visitors' desire for visuals. You can find free stock images for your site through online resources like Pixabay and Pexels.
Being mobile friendly
There's one last thing to point out: it's critical that your site is mobile-friendly, because, as Marketing Land explains, 56 percent of traffic to top sites comes via a mobile device. If your site isn't fully optimized for this segment of visitors, it's going to cost you customers.
Another reason why WordPress is so great is because they offer several "mobile plugins" that will optimize your site for you with virtually no effort on your end. Simply install and activate a plugin such as the "WPtouch Mobile Plugin" or "WordPress Mobile Pack." This will ensure that your site is viewable on practically any device, regardless of its screen size.
Conclusion
There's really no excuse for a small business not to have a website in this day and age. You can create one even with very limited technical expertise and no coding experience. Although it does require a little bit of effort to get the ball rolling, the long-term benefits are immense.
Suddenly, prospective customers can learn about your business, and your site can answer their pressing questions. In turn, this can lead to a considerable upswing in both online exposure and customers visiting your brick-and-mortar store.
Nick Mann writes professionally for both digital and print publications in business and technology.