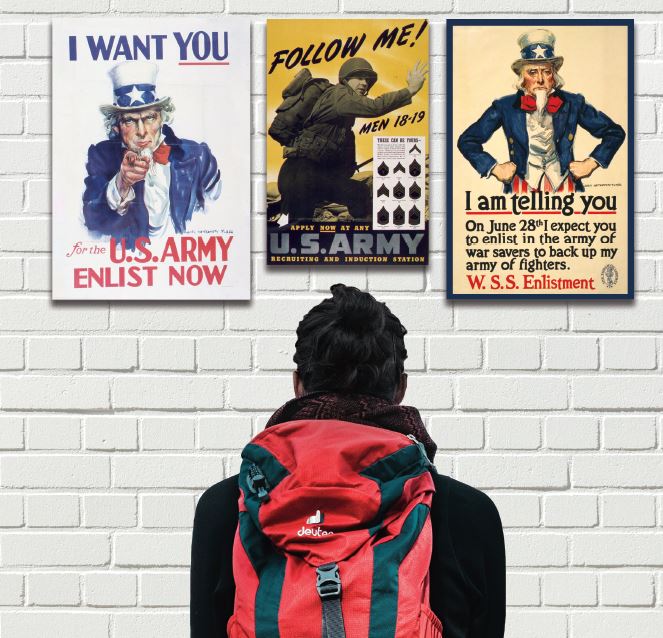 The New Army
By John Wills
As an army private in 1968, I was making the paltry sum of $110 per month. It was the Vietnam era and many lives were being lost daily in the jungles and rice paddies. The military at that time did not seem like such a prudent career path. Fast forward to 2018, however, and an army career is now an attractive option for men and women to consider. For one thing, the pay has increased to approximately $1,660 per month at the time of enlistment. Not a fortune, but as you read on, you'll learn that there are other perks involved.
The option of entering as either an enlisted soldier or officer means one can choose his or her own career path. And either option allows for the choice of serving as a full-time active duty soldier, or as a member of the Army Reserve or Army National Guard. If you are already employed in a job you enjoy but wish not only to serve your country but also make money while doing it, the National Guard is the way to go.
Salary
While that monthly paycheck amount may still seem low to some, like many civilian jobs it's the total compensation that really matters. If we compare an enlisted soldier's job as a military police sergeant to a civilian patrol officer, we find the police officer makes $51,492 compared to $32,029 for the military police. However, when one factors in the total allowances for the soldier, i.e., housing, food allowance, tax advantages and health care, the soldier's net income jumps to $52,856, versus the patrol officer's income of $48,137. Moreover, members of the military also enjoy many discounts from numerous businesses on everything from DVDs to family vacations.
Benefits
Education in today's world is important. I am aware of many friends and families who are saddled with tremendous debt as a result of student loans. Some of these bills take 20 or more years to repay and many people find themselves in default of their loans and declare bankruptcy. The Army has programs that can help you to achieve your educational goals. Soldiers can earn up to full tuition via scholarships and dozens of financial aid programs. For example, the GI Bill provides education benefits to veterans and service members who have served at least two years on active duty. These can be used to pay up to full tuition for numerous schooling programs, including college, technical school and flight school. The GI benefits normally last 10 years following an honorable discharge.
Health care is another onerous bill that takes a huge chunk of money from the family budget. As a soldier, you and your family are entitled to servicemembers' group life insurance and are automatically covered by a comprehensive HMO-type military health care plan called TRICARE. It provides medical and dental care at little or no cost. A network of preferred providers adds to the services offered at military treatment facilities. Soldiers and their families are free to make appointments with any authorized provider.
Life insurance is another benefit military members enjoy. Servicemembers' Group Life Insurance is a program of low-cost group life insurance for active duty and Army Reserve. The coverage is sold in increments of $10,000 up to a maximum of $400,000. The current rate is $.065 per $1,000 of insurance, regardless of the member's age.
And who doesn't enjoy long vacations? Soldiers on active duty receive 30 days per year. In addition, depending on their assignment, weekends are free, as are national holidays. Sick days are granted as needed.
Career paths
Not everyone who joins the army does it with the idea of sitting in a foxhole or being involved in firefights. Many of our enemies attack us through cyberspace rather than on the ground. To ensure our nation's safety and security, the army has addressed the threat head on. The military has many interesting and fulfilling paths for those who eschew the conventional soldier role. So much of our society now involves cyber that the army has its own Cyber Command, which directs and conducts integrated electronic warfare and information and cyberspace actions. It is the army's frontline of defense against hackers, data breaches and network intrusion.
Other interesting military careers to choose from include music, the chaplain corps, Army law and health care. In fact, the U.S. Army Medical Department is one of the largest and most advanced healthcare systems in the world with over 80 medical career specialties to choose from. The Army JAG Corps is an opportunity for young lawyers to challenge themselves in a variety of legal fields. JAGs serve throughout the U.S. and overseas. They're involved in a broad range of cases in military justice, civil and administrative law, contract and fiscal law and international and operational law.
Over the years, millions of men and women have served faithfully in the military. Today is a pivotal time in our nation and we need to ensure that we can protect ourselves and our families. The military life is an attractive career for many reasons. There are the tangibles such as world-class training, and competitive salary and fringe benefits that include healthcare and money for college. But there are also the intangibles: the pride and satisfaction of serving one's country while proudly wearing the uniform.
It's a new day and a new Army!