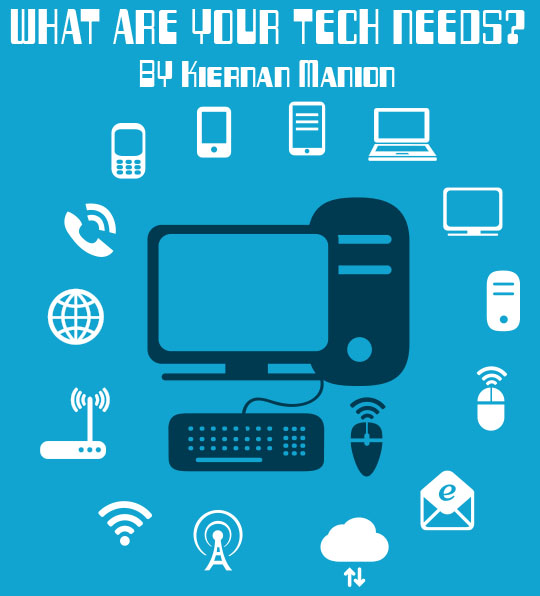 What Are Your Tech Needs?
By Kiernan Manion
Time moves swiftly when you're running a small business. Day-to-day operations and routine work days keep many owners and operators focused on simply keeping afloat. Other important priorities, like growing the business or analyzing finances, can easily be overlooked. Similarly, new technology is often dismissed in place of "the way it's always been." In today's business world, this frame of mind is a death sentence.
In our ongoing efforts to provide our readers with informative articles that apply directly to their businesses, we hope to encourage readers to think proactively about technological advances and how they can benefit from them. The ultimate question this article poses to small business owners is: Are you limiting your potential profits and market share with obsolete technology?
What devices do you utilize in your business?
In today's market, there are hundreds of device and hardware options available for the workplace, aside from your typical desktop or laptop computer. The implementation of smartphones and tablets, and the recent introduction of 2-in-1 devices (combination of a laptop and tablet), revolutionized the industry. These devices utilize thousands of apps to cover nearly all small business commercial needs. They provide faster operating systems, more advanced software capabilities and streamlined connectivity. In managing your business operations, you need the right devices to handle everything.
However, the rate at which these products become obsolete combined with seemingly exponential options for new tech can be overwhelming. A careful look at your current devices for business will determine your next move in the technology spectrum. How old is your primary business device? What difficulties do you face with your current setup? What research have you conducted?
The first step is to address all of your business needs and expectations for a device. If your current phone, computer or other tech is not meeting all of them, it may be time for an upgrade. Research what's available, try them out and determine for yourself if you are holding your business back with obsolete computers or devices.
Are you marketing and promoting your business actively and effectively in the digital marketplace?
Having a website and online presence is extremely important for small businesses, but many sources still don't fully acknowledge WHY it is important. The days of relying on phone books and billboards are long gone. Consumers will use search engines primarily to find businesses and products to fit their needs. Potential customers use consumer reviews and feedback to drive their buying habits. With your business, reaching the forefront of customer search efforts is crucial.
Regular updates, easy navigation and usability, and effective search engine optimization are absolute necessities for your company's website. Always ask yourself, "How are potential customers finding and viewing my business on my website? Is it hurting or helping my business?" While time and money are always factors, there are plenty of services and tutorials to help you keep your company's online presence on track.
Furthermore, marketing and advertising plans for your establishment should always include a digital presence. Email marketing has proven to be one of the most affordable options to spread the word about your company's products, news and happenings through customers' inboxes. Consider advertising campaigns, like pay-per-click (PPC) and banner ads, to help drive people to your company's pages. Establish a clear message and a reason for customers to choose you with online branding via social media sites and mobile marketing. The opportunities for low-cost, relevant avenues to grow your business are ripe for the taking.
How can today's technology help your daily operations?
One of the most prevalent aspects of running a small business is feeling like you have to do everything yourself. As an entrepreneur, you are responsible for handing and managing the daily operations of all aspects within your business. There are numerous technological advances that can make things easier and more manageable.
For instance, keeping track of personnel, human resources and payroll takes significant planning and detailed time management. Updating your software and streamlining your process for these tasks, or even looking into low-cost outsourcing services, can help you save time and focus on other things within your business. New software and commercial services can even provide cash flow analyses, profit-and-loss reports, inventory tracking and other important tools for monitoring your finances. Evaluating your processes and time management is crucial to bringing your business into the new age of technology.
Outdated software can also lead to inaccurate or lost records, which can doom a small business. How you store and keep track of your electronic data is directly connected to the integrity of your establishment. As data breaches become more frequent, financial and personal information for both your customers and your business has to be protected in accordance with today's standards.
In keeping things secure, there are dozens of security systems to protect your store in the event of break-ins and theft. Alarm systems, surveillance cameras, motion sensors and other security equipment comes in a variety of packages and setups that can be customized for your facilities and budget. Nearly any aspect of small business can be improved with the right pieces of technology.
Thinking and acting proactively are very common traits associated with successful business owners. Measuring, evaluating and analyzing your business can be made simpler and easier with the right tools and resources. Ultimately, the first question you should address for your business is this: what is your #1 technology challenge? That should be the beginning focus to improving your business and utilizing the evolution of technology available in 2015 and beyond.
Start researching, measure the pros and cons, and keep your business competitive in a growing commercial world fueled by advanced technology and ever-changing customer buying habits. Stay tuned in future issues of Surplus Today to explore these new technological advances and investigate how they can help small businesses.