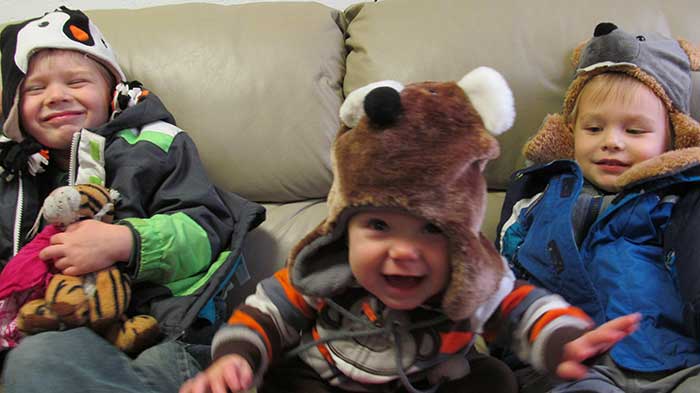 Winter Product Ideas
ANIMAL HATS
A surefire winter gift idea for children, teens and fun-loving adults are plush animal hats. We invited Gus, Oliver, Tillie and their parents for a photo shoot at Surplus Today. The kids' dad, Danny, brought all of us "good" coffee, not the rot gut we drink at ST headquarters!
What followed was work turned into a lively party. We had so much fun trying to pose our models and finally decided to just let them be themselves.
We found these at one of our favorite surplus stores. They retail at $5.99 and come in all different animal shapes: dolphin, donkey, duck, eagle, elephant, elk, fish, shark, fox, frog, goat giraffe, horse, husky, kangaroo, koala, leopard, lion, monkey, mouse, moose, owl, panther, parrot, panda, polar, bear, penguin, pig, rooster, raccoon, rabbit, reindeer, skunk, snake, sheep, squirrel, tiger, wolf and zebra.
Tillie, the baby, wore a mystery critter. Some of us thought it was a bear. Tillie's big brother, Gus, said it looked like a deer. What do you think?
BUTTER  SOCKS
In the Urban Dictionary, butter socks are: "socks filled with butter in which someone is beaten with." This is NOT the subject for this product review! These butter socks are an item that is perfect for the freezing temperatures many of us endure in winter time. They are inexpensive, soft, cuddly and comfortable. Repeat customers say they are "durable, warm and very soft to the skin."
Butter socks come in a rainbow of different colors: bright red, deep purple, stripes, pastels, greens, blues and light violet. Other colors are sunset orange, yellow, red, citrus, fuchsia, soft green, bubblegum, turquoise and lime.
If you are a purist, you can also find solid black and white. Whatever colors you choose, the ladies in your life will thank you for your gift. Giving flowers is nice, but in winter, socks to keep your honey's feet warm will be a hit. Those honeys could be teens, women or grannies. Every age will enjoy these socks.
Butter socks are mid-calf length and are one size fits most. Sock size is 9-11 and shoe size 5-9.
An Internet search revealed these same socks sell for $7.00 a pair at expensive  department stores. Although prices vary, the army-navy store providing product for this review sold them for only $5.99. Be sure to prominently feature this item for any remaining pairs you might have, or keep them in mind when ordering winter goods.