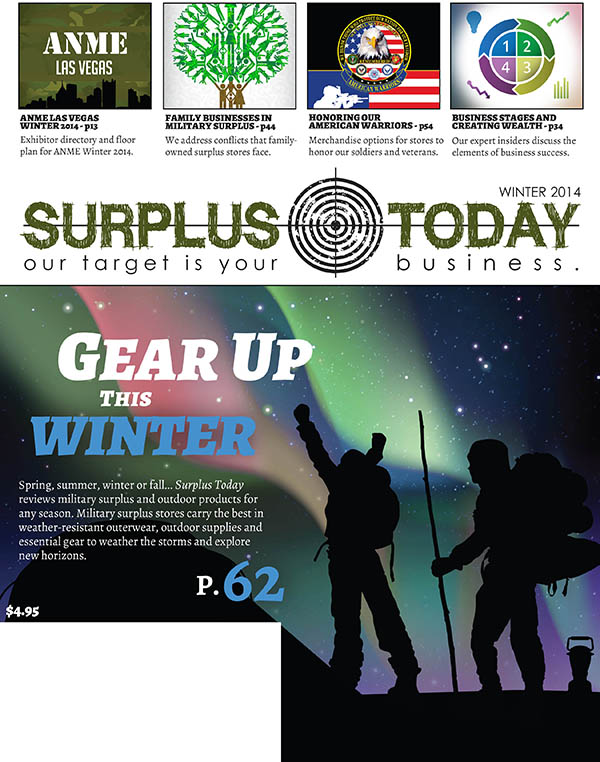 Next issue of Surplus Today coming this January!
We are proud to announce that our first issue for 2014 is off to the printer and will arrive for your reading pleasure in January 2014!
Beginning in January, 2014, Surplus Today will be expanding the magazine to five issues to accommodate its growing popularity. The revised publication schedule will be: January, April, June, August, and October.
The next installment is loaded with quality articles and information from within the Army Navy military surplus industry and business experts and contributors from across the country. Our featured article for Winter 2014 is focused on the family business dynamic and some of the most common and important considerations for family-owned businesses. For surplus stores, a large majority of which are owned and operated by family members, this will help break down some of the barriers that affect businesses negatively, on both family and business sides.
We've also included an exclusive interview between two Army veterans, offering their own experiences and reflections from their time serving our country. Also featured will be an expanded section of product reviews and business topics relevant to the industry and more of the same quality articles you have come to expect from Surplus Today, including industry news,veteran expertise in the realm of law enforcement, innovative look at technology concepts, renowned legal advice, and much more!
If you'd like to see specific topics or articles in the publication, tell us! We are always looking for insider knowledge and news in the military surplus industry, suggestions for trending products and product reviews, and feedback on the publication.
Current advertsiers, call us today to secure your ad rates for 2014! Our January and August issues will be distributed at both the January and August ANM Expos in Las Vegas next year, reaching a total of 3,000+ buyers for both shows.
Potential advertisers, if you're interested in reaching the over 1,800 online and print Surplus Today subscribers, comprised of Army Navy military surplus, outdoor, camping, hunting, firearm, and tactical retailers across the United States, call Wil Tehero today at (810) 772-1769 or send him an inquiry at wil@dcastlegrant.com.
Thank you for reading Surplus Today!