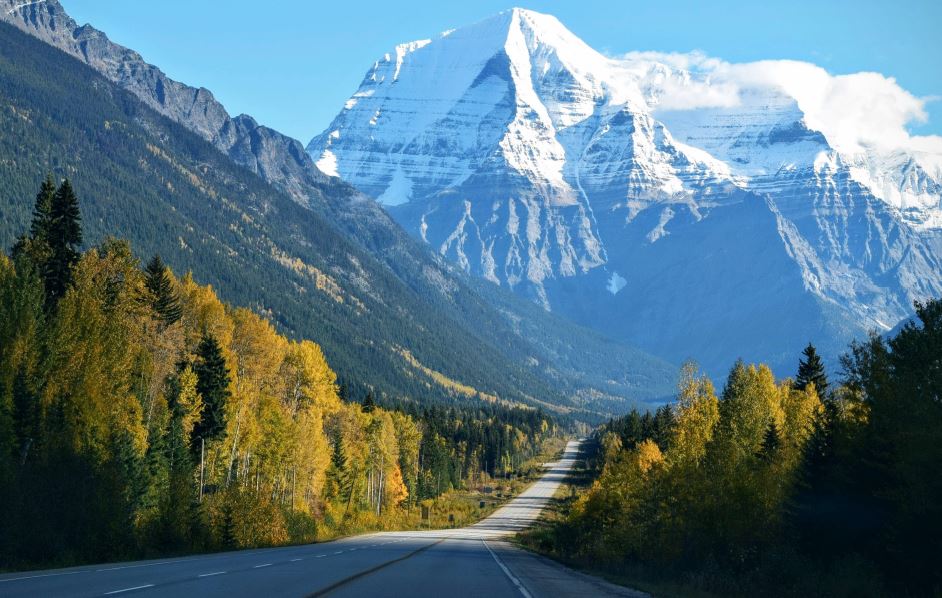 Roadtripping in British Columbia
By Cheri Megasko
If you're like many Americans, the thought of driving hundreds of miles along busy interstates or major thoroughfares doesn't appeal to you much. Rush hour traffic, construction and just the mere volume of other vehicles is enough to make you cringe at the thought of your next long drive. That's why it's always such a pleasure to explore a new area via a scenic byway or historic highway. One such treasure is the Cassiar Highway. (BC Highway 37), which runs north and south along northwestern British Columbia, Canada. Its 450 miles of wildlife, lush vegetation and scenic views might even be enough to make you want to turn around and drive it all over again.
The Cassiar Highway connects Yellowhead Highway 16 (near Kitwanga, British Columbia) to the Alaskan Highway, just north of British Columbia and slightly into the Yukon Territory, Canada. Traveling from south to north, this scenic drive begins at the Skeena River Bridge near Kitwanga, British Columbia, and ends less than a mile east of Nugget City, Yukon. The road is mostly paved (with a few short areas of gravel) and is open year-round. If you're driving the Alaskan Highway but hop off to take the Cassiar Highway for its 450 miles, it will save you about 130 miles in total.
To get the most out of your Cassiar Highway experience, you might want to stop and stay a while. If that's your plan, you'll find a wide array of options available along this hospitable route. There are several places where RVers and tent campers can pull over to boondock free of charge. For campers who enjoy the wilderness but prefer a few basic services, Kinaskan Provincial Park, Boya Lake Provincial Park and a handful of private campgrounds are available at various intervals along the Cassiar Highway. And, for those who prefer more elaborate accommodations, there are even a few private "resorts" and lodges that dot the route.
Whether you decide to stay a few days or are just passing through, be sure to have your fishing gear handy. Glacier lakes are numerous in this region of Canada, and water never seems to be more than a few kilometers away. British Columbia offers non-resident angling license options for one day, eight days or one year. If you've got the kids along, those under 16 can fish without a license, as long as they are accompanied by a legally licensed adult.
This drive is as beautiful as it is relaxing. In addition to the numerous glacier lakes, there is a plethora of ponds, creeks and rivers where animal and plant life abound. Waterlilies adorn many of the smaller bodies of water, which are often surrounded by mixed forests of conifers and aspen. There seems to be no end to the variety of wildflowers that line the roadway and fill the meadows. And in spring and summer, layers of green in more shades than you can imagine await you after summiting each hill or rounding each turn.
Wildlife is abundant in this area, and those who rejoice in spotting the occasional bear or moose should be in Heaven. Spring is the best season to see black bears as they gorge on dandelions and other green morsels after their long winter hibernation. In fact, it is not uncommon to spot a momma bear with her cubs as she teaches them the best places to forage for breakfast. Foxes, caribou and porcupines are also common sights, so be sure to have your camera at hand. Just be aware that there are no shoulders along most of this route.
When it's time for you and your family to grab a bite, you may have fewer options than the bears. Although small towns and commercial enterprises appear somewhat regularly, there aren't always a lot of food choices to be found. Most are "Mom-and-Pop" shops that serve typical fast food, like burgers or fish and chips. And there may not be any places near at the specific times you're ready to eat. So be prepared and either time your meals with your arrival in one of the larger towns (like Dease Lake) or pack a picnic lunch and pull over at one of the many rest stops along the way. Vault toilets are located at many of these rest stops, but there is no running water, so be sure you bring along handwashing and sanitizing supplies as well.
If an after-dinner walk is what you're looking for, you're in luck. Many of the campgrounds and Provincial Parks along the route offer numerous groomed trails that are perfect for an evening stroll. There is also no shortage of one-off trailheads along the way that have pullouts with ample parking. And because the Cassiar Highway is so far north, the number of daylight hours between April and August ranges between 14.25 and 18.25 hours per day. Of course, a walk or a hike in this area is beautiful any time of day – just be sure to bring along your bear spray, as you never know when you might find yourself face-to-face with a gorgeous black bear or grizzly with her cubs.
If you happen to run into car trouble or health issues along the route, Dease Lake is probably your best option for assistance. Located in the northern third of the route, it's the largest town for several miles. In addition to towing services, tire repair, and a hospital, it has a nice grocery store with ready-made food, a few small restaurants, a gas station and a liquor store. One thing they probably won't have, however, is U.S. cell phone service. Don't expect to be able to use your mobile phone along this route unless you have Canadian service, and even then, it will be sketchy.
Despite a few inconveniences, like being unplugged or having limited dining options, a beautiful and relaxing drive along British Columbia's Cassiar Highway could be just the getaway you and your family have been searching for. With gorgeous, natural views around every corner, numerous opportunities to fish and hike and the realization that at any moment you could spot a bear, caribou or moose, you'll be hard-pressed to find a scenic drive that offers more satisfaction for you and your traveling companions.