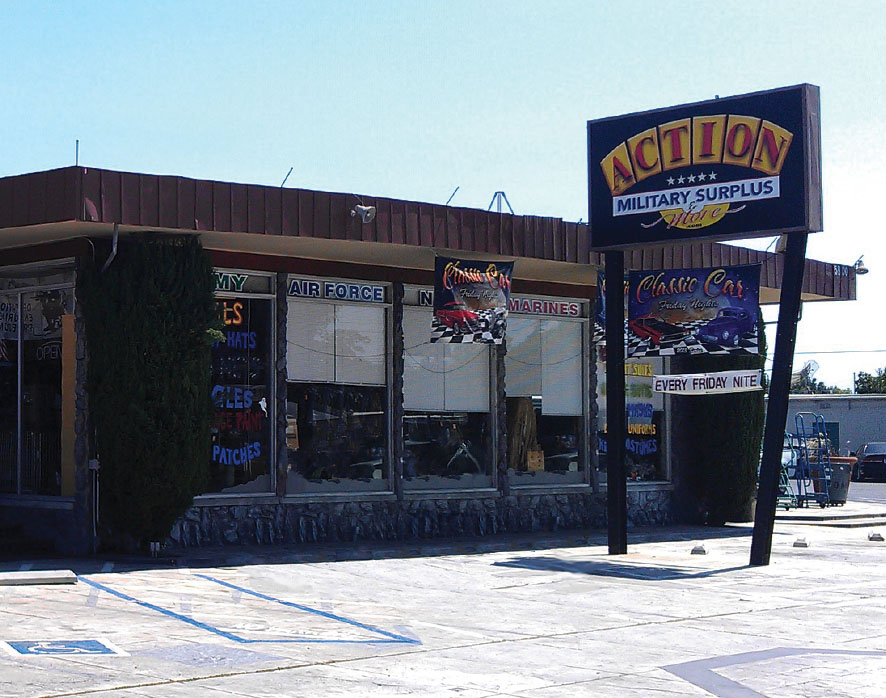 Surplus Today Spotlight: David Blase & Action Military Surplus
By Deborah Gantos
This issue's Spotlight interview is with David Blase, owner and founder of Action Military Surplus in Sacramento, CA. The knowledge, information and feedback from David offer some interesting insights about the surplus industry and the stores that make it so diverse and yet connected. Action Military exemplifies some very unique products, a strong business model and several suggestions for owning and operating an Army Navy surplus store.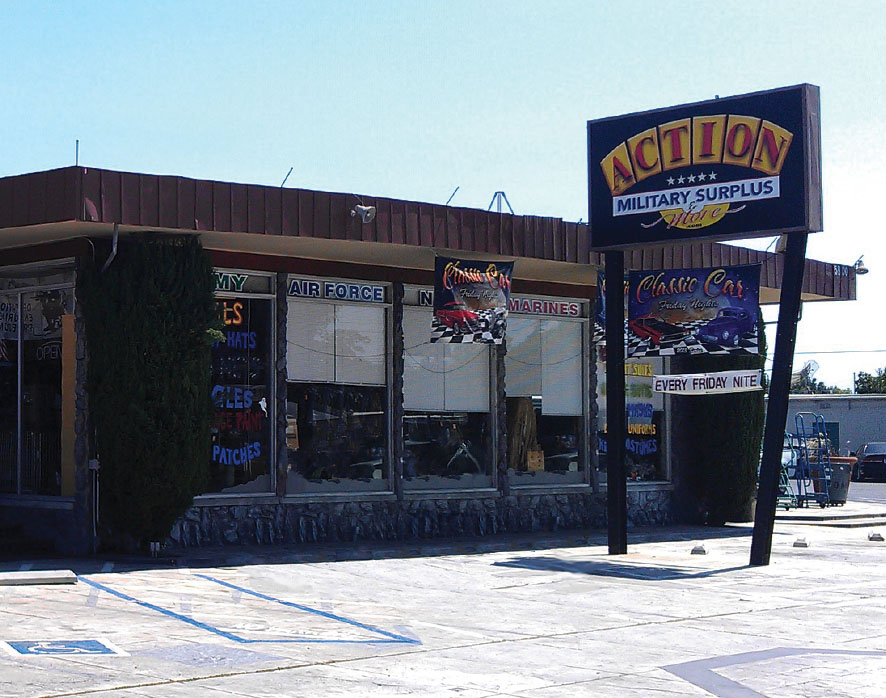 How did Action Military Surplus begin?
I have been around the surplus industry for 25 years, and the idea of opening a shop was some­thing that my brother Neale and I agreed might be a good idea. There was a niche market to fill at the time, and we stepped up to the plate hoping to fill that space. We opened our doors in July 2009 and have been pushing ahead full-steam ever since.
What's the story of the business?
When we opened our doors, the sur­plus business was approaching a low in terms of numbers of shops in the greater Sacramento area. We were fortu­nate enough to find a building on a major street in Sacramento, and over the course of several months, we made changes to the property that opened up the space and created greater visibility for passersby. We actively and aggressively sourced what we could where we could, and were fortunate enough to have built relationships with people like Alan Pizer at Major Surplus and Dave and Brett at M.O.C. We continue to grow and improve and evolve to meet the needs of the times and the wants of our customers.
What makes Action Military Surplus special/unique?
If you were to ask the general public what they picture when they think of a military surplus or Army/Navy store, most would describe something resembling a packed warehouse with dim lighting, a layer of dust on everything, and piles of gear and uniforms stacked on the ground or in boxes waiting to be picked through. In a sense, our approach is more Macy's than military. The store is neat and clean, we have aisles, clothing racks and shelves…it is easy for customers to find what they need because like items are not only in the same area, but are clearly displayed and easy to access. Our customers appreciate it. Nick, our store manager, came to us with the idea to make the store "female-friendly." If your store is not clean and orderly, women will not want to come into the store. If women refuse to come in, they will not bring in their kids and their friends, and they will not let their boyfriends or husbands come in either. So we are unique in that we are not just friendly to vets and cops; we strive to make our shop family-friendly and open to every­one from vets to soccer moms.
Do you think there is a difference in the surplus industry and Army Navy stores located in the West Coast compared to the rest of the country?
Unfortunately, there is a lack of variety here on the West Coast that the East Coast does not see. Because there are still plenty of bases concentrated on the East Coast that serve all branches, there is a huge variety of milsurp com­ing out of the military community. On the West Coast, and specifically here in California, the type of surplus gear you get depends on how far north you are from San Diego. The shops in SoCal see surplus from all branches, and plenty of it. In Sacramento, we are heavy on Air Force and Army gear, see a moder­ate amount of Marine Corps gear, and almost nothing from the Navy.
Does Action Military Surplus use any sort of loyalty program for veterans or active military?
We offer a 10% discount to active duty military personnel, reserves and
National Guard, cadets, ROTC, Civil Air Patrol, and state militia.
How often do you do business with veterans?
Veterans comprise roughly 25% of our customers, but we frequently donate or rent uniforms and gear to veteran groups and almost any organization looking to show support for our veter­ans.
Do you carry any gun-related products?
We carry some, general accessories like cleaning kits, slings, rifle cases, holsters and the occasional bipod, but we are not known for our gun-related products.
Have you done business with any gun stores/owners?
Yes, we have a good relationship with a local gun shop, Sacramento Black Rifle.
Do you use eCommerce to import/export goods? If so, what would you recommend to surplus stores looking to start this endeavor for themselves?
We do a fair amount of eBay sales, but are looking to launch a shopping cart function on a newly-designed website soon.
What sort of products do you offer? What are your best sellers?
We sell just about everything except firearms. We carry dress and combat uniforms, tactical gear, bags and packs, boots, camping and survival equipment- all of which come new and used, mod­ern and vintage. Our best sellers are 550 paracord (we carry 50+ colors), pins and patches, and BDUs.
What advice would you give to new entrepreneurs just starting out?
You can't have a store with bare shelves, so pick up as much as you can, when you can, where you can. Customers return if they know they are likely to see new products on the shelves from one week to the next, so it is important not only to replenish depleted stock, but to recognize the value in bringing in those new and exciting products to supple­ment the bread-and-butter standards that this business is built on.
Is there anything else you would like to add?
July 18 was our four-year anniversary, and we are tremendously proud to have reached this point. We always thank our customers, but we wouldn't be where we are without having great relation­ships with so many fine folks across this country that make the surplus industry what it is and help us keep the shelves stocked with great products that customers want!
Surplus Today would like to extend our gratitude to David for providing some very informative responses and taking the time out of his busy schedule to talk with us. For more information on Action Military Surplus, visit their website at ActionMilitarySurplus.com, or give them a call at (916) 332-5000 to see how Action Military can serve your surplus product needs!